NO INFRASTRUCTURE, at ALL
CALLS for INNOVATION
http://www.trackernews.net/search/?s=HAITI
http://crisismapping.ning.com/
OPEN STREET MAP TOOLKIT
http://www.openstreetmap.org/?lat=18.72&lon=-72.68&zoom=8&layers=B000FTF
http://wiki.openstreetmap.org/wiki/WikiProject_Haiti
http://labs.geofabrik.de/haiti/
TXT 4636 FREE COMM SYSTEM
http://blog.ushahidi.com/index.php/2010/01/17/the-4636-sms-shortcode-for-reporting-in-haiti/
http://blog.ushahidi.com/index.php/2010/01/18/ushahidi-fletcher-situation-room-update/
http://blog.ushahidi.com/index.php/2010/01/20/4636-success-stories-from-haiti/
GOOGLE MISSING PERSON SPREADSHEET
http://haiticrisis.appspot.com/
https://spreadsheets.google.com/pub?key=t0Ya6eH0L7fn599qN4WsJkw&gid=0
https://spreadsheets.google.com/pub?key=t0Ya6eH0L7fn599qN4WsJkw&gid=1
iREPORT SEARCH BY NAME
http://www.ireport.com/ir-topic-stories.jspa?topicId=381628
INT'L RED CROSS
http://www.familylinks.icrc.org/haiti/people
http://www.familylinks.icrc.org/haiti
REUTERS EMERGENCY INFORMATION SERVICE (EIS)
http://www.alertnet.org/thenews/newsdesk/126373176384.htm
"EIS is exclusively operating for and on behalf of earthquake survivors, using local languages, French and Creole. The service is free and global. People in Haiti and families and friends around the world can register via a simple text message. Survivors will receive critical news and information direct to their mobiles"
InSTEDD
http://www.instedd.org/technology_overview
http://www.instedd.org/technology_field_lab
RELIEF EFFORTS
http://www.mercycorps.org/
http://www.standwithhaiti.org/haiti
http://www.cidi.org/incident/haiti-10a/
http://community.apan.org/hadr/haiti/default.aspx
http://www.usaid.gov/faqs.html#q4
http://www.interaction.org/crisis-list/earthquake-haiti
http://blog.ted.com/2010/01/the_haiti_trage.php
OVERSIGHT
http://www.disasteraccountability.org/
http://www2.guidestar.org/
HEALTH + SANITATION GUIDES (KREYOL)
http://www.hesperian.org/publications_download.php
http://www.hesperian.info/assets/Where_There_is_no_Doctor_Creole.pdf
http://www.hesperian.info/assets/hesperian_wwhnd_haitian%20creole_2000.pdf
http://www.hesperian.info/assets/PDF%20Kreyol%20sanitation%20book-1.pdf
LEARN KREYOL
http://haiticrisis.appspot.com/?lang=ht
http://crisiscommons.org/wiki/index.php?title=Creole-French-English_Phrase_Dictionary_Wiki
TECHNICAL VOLUNTEER REGISTRY
http://dex.cidi.org/
http://www.ewb-usa.org/haiti.php
IMPORTABLE INFRASTRUCTURE :
WHO'S WHERE, DOING WHAT
http://haiti-orgs.sahanafoundation.org/prod/or/organisation
http://haiti.sahanafoundation.org/prod/
http://www.reliefweb.int/rw/dbc.nsf/doc108?OpenForm&emid=EQ-2010-000009-HTI&rc=2
CONDITIONS
http://wfplogistics.org/haiti-earthquake-2010
NAVIGATOR
http://www.garmin.com/garmin/cms/site/us/onthetrail/
CONTEXT
http://google-latlong.blogspot.com/2010/01/haiti-imagery-layer-now-available.html
http://www.pbs.org/newshour/rundown/2010/01/scenes-of-destruction-in-haiti-from-above.html
Images of this week's massive earthquake in Haiti are now flowing out of the country as aid workers and journalists flow in. What we have seen so far confirms the obvious: devastation is massive and widespread. Buildings collapsed. Homes destroyed. A country once inching back from the abyss has been thrown violently back. The photos above, courtesy of GeoEye and Google, show parts of Port-au-Prince before and after the quake. The white building in the bottom frame is the presidential palace, cracked along its axis. This morning, Google added GeoEye's new imagery to Google Earth. It is available here. We've embedded it below. Google Earth Library also has a good collection of data and images from Haiti. Additionally, Google has launched a dynamic spreadsheet, called the "Haiti Situation Tracking Form" that allows people to post messages looking for loved ones and other updates.
CRISIS MAPPING
http://haiti.ushahidi.com/main
http://haiti.ushahidi.com/reports/submit
http://blog.ushahidi.com/index.php/2010/01/13/haiti-earthquake/
http://sitroom.ushahididev.com/
http://leeinhaiti.com/
http://wiki.sahana.lk/doku.php/haiti:start
http://talksahana.com/?p=333
TECH VOLUNTEERS
http://english.aljazeera.net/news/americas/2010/01/20101206836217899.html
Hundreds of web technicians, spurred into action by Haiti's earthquake one week ago, have developed new web-based tools and services to help the relief effort. Volunteers in the US built and refined software for tracking missing people, mapping the disaster areas and enabling urgent text messaging. Tim Schwartz, a web programmer in San Diego, California, said that he feared that due to so many social-networking sites, crucial information about Haitian earthquake victims would "go everywhere on the internet [but] it would be very hard to actually find people".
Acting on his concern, Schwartz and 10 other web developers built www.haitianquake.com, an online lost-and-found site to help Haitians in and out of the country to locate missing relatives. The database, which anyone can update, was online less than 24 hours after the earthquake struck, with more than 6,000 entries due to a built-in "scraper" that gathered data from emergency relief organisations working at the site of the earthquake in the Haitian capital of Port-au-Prince. Agencies, including the International Committee of the Red Cross and the US federal emergency management agency [Fema], put the systems to use and two days later, Google, the US search engine giant, created PersonFinder, which consolidated all the information from various person-finding sites. Christopher Csikszentmihalyi, the director of media at the Massachusetts Institute of Technology, said PersonFinder, which can be embedded in any website and thus far has more than 32,000 records, "greatly increases the chances that Haitians in Haiti and abroad will be able to find each other".
Dispatching rescuers
Another volunteer project forged in the earthquake's aftermath was a mobile phone text-messaging system that helps relief groups dispatch rescuers, food and water. Patrick Meier, the director of Crisis Mapping and Strategic Partnerships at Ushahidi, an online crisis-reporting platform, told Al Jazeera such tools allow near real-time disaster response. "One of the most recent developments in that effort has been the free text messages [they are usually in Creole but in 10 minutes we get them translated into English] … if anyone inside Haiti texts 4636, we get that information in near real time and can [then] map it [and get the information to organisations that need it]," he said. "We have had a number of success stories. One of the very first was a report that went up through Ushahidi about an orphanage that was desperately running out of water … soon after we had someone report they had dispatched 20 litres of water to the orphanage." In another collaborative effort, volunteers from online OpenStreetMap "crisis mapping" project provide up-to-the-minute data, such as the location of new field hospitals and collapsed bridges.
USHAHIDI [TESTIMONY]
http://www.washingtonpost.com/wp-dyn/content/article/2010/01/15/AR2010011502650.html
online tool to Haitian disaster relief effort
BY Monica Hesse / January 16, 2010
Patrick Meier learned about the earthquakes at 7 p.m. Tuesday while he was watching the news in Boston. By 7:20, he'd contacted a colleague in Atlanta. By 7:40, the two were mobilizing an online tool created by a Kenyan lawyer in South Africa. By 8, they were gathering intelligence from everyplace, in a global effort to crowd-source assistance for Haiti. The site is www.Ushahidi.com, and it allows users to submit eyewitness accounts or other relevant information for disaster zones via e-mail, text or Twitter — and then visualize the frequency of these events on a map. By Friday, Ushahidi, which means "testimony" in Swahili, had received nearly 33,000 unique visitors, and several hundred personal reports that mainstream news organizations might not hear about. "Chantal Landrin is stuck under the rubble at a house in Turjo!" one user submitted via Twitter. "Please help me find my family in Haiti," begins another poster. The majority of Ushahidi's posts are from people — many from the United States — hoping to find information about missing relatives. "Route 9 is access point into [Port-au-Prince] but still precarious," writes another, who has traveled the road.
Taken individually, these bits of data might not be terribly useful. The goal is that by aggregating the incidents in a visual format, people and organizations using the site will be able to see patterns of destruction, to determine where services should be concentrated. A red dot on the map, for example, signifies that looting is happening near a town called Pétionville; another shows that Hotel Villa Creole has become a site of medical triage. The practice is known as crisis mapping, a newer field of disaster analysis using geography-based data sets, employed by organizations like Ushahidi and Arlington-based GeoCommons. Although individuals have used Twitter and Facebook to share anecdotes for a few years — notably, during 2009's contested Iranian elections — crisis mapping brings many data points together, making meaning out of randomness and spreading information about areas lacking well-developed records. "We're providing a repository for all kinds of organizations," says Meier, who in addition to working as Ushahidi's director of strategic operations also founded the International Network of Crisis Mappers.
Ushahidi was originally founded in 2008 to map reports of violence in post-election Kenya. Ory Okolloh, a lawyer, had been trying to keep track of these incidents via her personal blog, "but I got swamped by how much information was coming in," Okolloh says, "and I wanted to have a larger context of what was happening." She appealed to the blogosphere for help, and soon had a site that allowed the entire Kenyan population to catalogue the injustices and atrocities they were witnessing — a real-time encyclopedia of unrest. Since then, the Ushahidi platform has been employed in many smaller projects, from monitoring elections in India to tracking medicine in various African countries. "Stop the Stock-outs," as the medical project was known, involved volunteers swarming pharmacies to check the availability of common drugs and text their findings to be displayed on a map. In Kenya alone, more than 100 health centers were revealed to be operating without necessary medication, according to reports. The Kenyan government later allocated more funds for medication.
In Haiti, Meier says, it's too early to tell what impact Ushahidi might have on relief efforts. Some of the rescue workers for whom Ushahidi was intended are currently too besieged by the chaos of the situation to attempt incorporating it into their work: "Our colleagues are not feeding information into crowdsourcing platforms for now," writes Florian Westphal of the International Committee of the Red Cross via e-mail. "I don't think they have the time." Crisis mappers hope that their analytics will gain greater use in coming days, as rescue workers attempt to navigate the changed landscape. "Being one of the poorest countries in the Western Hemisphere, Haiti doesn't have the infrastructure that a more developed country would have," such as extensive Global Positioning System equipment that would aid in mapping the terrain, says Andrew Turner, chief technology officer of GeoCommons, which has also been producing Haiti-related maps. "Now you have all of these people needing to know how to get from here to there. . . . You need to know where the triage centers are, and the food and water. An old map would be irrelevant with road closings."
The crowd-sourcing represents what Meier sees as the future of crisis response. "We're going to need to collaborate, we're going to need to share data," he says. "The best way to provide humanitarian response is to be able to provide platforms" and tools that allow people to share on-the-ground information quickly. On Ushahidi, someone posts that the National Cathedral has collapsed, and the map gets another tiny dot of red.
CRISIS COMMONS [WHITE HAT]
http://haiti.crisiscommons.org/
http://crisiscommons.org/wiki/index.php?title=Haiti/2010_Earthquake
http://twitter.com/crisiscamp
TXT/SMS DONATIONS
http://blogs.consumerreports.org/money/2010/01/update-donating-haiti-relief-red-cross-text-donations-better-business-bureau-wise-giving-alliance.html
http://www.techcrunch.com/2010/01/14/text-message-donations-to-haiti/
http://www.giveonthego.com/
http://www.mobilegiving.org/
http://www.mobileaccord.com/
http://www.mgive.com/help/haiti.aspx
http://www.mgive.com/Learn_More.aspx
http://blog.mgive.com/category/case-studies/
DOCTORS WITHOUT BORDERS ALREADY THERE (FACILITIES DESTROYED)
http://doctorswithoutborders.org/news/
http://doctorswithoutborders.org/news/article.cfm?id=4157
The first reports are now emerging from Doctors Without Borders/Médecins Sans Frontières (MSF) teams who were already working on medical projects Haiti. They are treating hundreds of people injured in the quake and have been setting up clinics in tents to replace their own damaged medical facilities.
The Martissant health center in a poor area of Port-au-Prince had to be evacuated after the earthquake because it was damaged and unstable. The patients are now in tents in the grounds and the medical staff have been dealing with a flow of casualties from the town. They have already treated between 300 and 350 people, mainly for trauma injuries and fractures. Among them are 50 people suffering from burns—some of them severe—many of them caused by domestic gas containers exploding in collapsing buidings. At the Pacot rehabilitation center another 300 to 400 people have been treated. In one of MSF's adminstrative offices in Petionville, another part of Port-au-Prince, a tent clinic there has seen at least 200 injured people. More are getting assistance at what was the Solidarite maternity hospital, which was seriously damaged.
One of MSF's senior staff, Stefano Zannini, was out for most of the night, trying to assess the needs in the city and looking at the state of the medical facilities. "The situation is chaotic," he said. "I visited five medical centers, including a major hospital, and most of them were not functioning. Many are damaged and I saw a distressing number of dead bodies. Some parts of the city are without electricity and people have gathered outside, lighting fires in the street and trying to help and comfort each other. When they saw that I was from MSF they were asking for help, particularly to treat their wounded. There was strong solidarity among people in the streets." Another MSF coordinator there, Hans van Dillen, confirmed that Port-au-Prince was quite unable to cope with the scale of the disaster. "There are hunderds of thousands of people who are sleeping in the streets because they are homeless," said van Dillen. "We see open fractures, head injuries. The problem is that we can not forward people to proper surgery at this stage."
So many of the city's medical facilities have been damaged, healthcare is severely disrupted at precisely the moment when medical needs are high. MSF is also working to get more staff into the country. Around 70 more staff are expected to arrive in the coming days. MSF is sending out a 100-bed hospital with an inflatable surgical unit, consisting of two operating theaters and seven hospitalization tents. Nephrologists will be sent as part of the team in order to deal with the affects of crush injuries. However, transport links are difficult and it is not yet clear whether supplies and medical staff will have to go in through neighboring Dominican Republic. MSF is also concerned about the safety of some of its own staff. There are 800 of them and not all have yet been accounted for because of the poor communications and general disruption.
INFLATABLE HOSPITAL EN ROUTE
http://www.doctorswithoutborders.org/press/release.cfm?id=4165
Doctors Without Borders Cargo Plane With Full Hospital and Staff Blocked From Landing in Port-au-Prince / 17 January 2009
Doctors Without Borders/Médecins Sans Frontières (MSF) urges that its cargo planes carrying essential medical and surgical material be allowed to land in Port-au-Prince in order to treat thousands of wounded waiting for vital surgical operations. Priority must be given immediately to planes carrying lifesaving equipment and medical personnel.
Despite guarantees, given by the United Nations and the US Defense Department, an MSF cargo plane carrying an inflatable surgical hospital was blocked from landing in Port-au-Prince on Saturday, and was re-routed to Samana, in Dominican Republic. All material from the cargo is now being sent by truck from Samana, but this has added a 24-hour delay for the arrival of the hospital.
A second MSF plane is currently on its way and scheduled to land today in Port- au-Prince at around 10 am local time with additional lifesaving medical material and the rest of the equipment for the hospital. If this plane is also rerouted then the installation of the hospital will be further delayed, in a situation where thousands of wounded are still in need of life saving treatment.
The inflatable hospital includes 2 operating theaters, an intensive care unit, 100-bed hospitalization capacity, an emergency room and all the necessary equipment needed for sterilizing material. MSF teams are currently working around the clock in 5 different hospitals in Port-au-Prince, but only 2 operating theaters are fully functional, while a third operating theater has been improvised for minor surgery due to the massive influx of wounded and lack of functional referral structures.
MEANWHILE : NO MEDICINE, BABY BEING BORN on STREET
http://english.aljazeera.net/news/americas/2010/01/2010114164959501665.html
CHILD SCAVENGERS SELLING at STREET MARKETS
NETWORK RELIEF KIT
http://www.make-digital.com/make/vol19/?pg=46&pm=1
http://www.nethope.org/images/uploads/casestudies/DisasterRelief.pdf
"NetHope members who have been active in our relief efforts firmly believe that NGOs on the ground require a lightweight "NetHope ICT Kit" they can carry in their baggage to provide instant communications from Day 1 onward. This kit must have the following features:"
NETHOPE
http://www.nethope.org/about/faq/
http://www.nethope.org/impact/programs/
http://www.theeastafrican.co.ke/business/-/2560/817908/-/4gqf59z/-/
TECH SUPPORT
http://www.inveneo.org/?q=wifi_access_point
http://www.inveneo.org/?q=haiti-response
http://www.inveneo.org/?q=poweradvantage
http://www.cioinsight.com/c/a/Past-News/IT-Lends-a-Helping-Hand-An-interview-with-NetHopes-Edward-GrangerHapp/
IT Lends a Helping Hand: interview with NetHope's Edward Granger-Happ / 2005-01-28
How to help the IT relief effort : "Donate laptops, desktops, network equipment and other technology. Donate bandwidth, especially satellite transponder space. Serve as a volunteer, and encourage your staff to do the same."
The relief workers toiling in the tsunami-battered nations of southern Asia, Sri Lanka and Indonesia don't just need money; they need IT support. Like all professionals, their effectiveness and productivity can be amplified by IT—only in their case it means saving more lives and restoring communities more quickly. But field workers for organizations such as Save the Children, Oxfam, and CARE must do their work in nightmarish conditions, often without electricity, phone lines and the human basics. Edward Granger-Happ, the chairman of the board and a founder of NetHope, Inc., is a CIO on the front lines of the tsunami relief effort. NetHope is an organization made up of IT executives from 15 non-government relief organizations who have banded together for cooperative effort rather than competitive advantage. NetHope members share information and know-how, and work together with corporate partners such as Cisco Systems, IBM and Microsoft to develop, share and supply equipment, software and communications services for their members' relief workers.
Granger-Happ doubles as the chief technology officer of Save the Children, a Westport, Conn.-based charity and relief organization and a NetHope member. He left behind a 24-year career in the private sector, first as an executive with First Boston, Lotus, Chase and Data Broadcasting Corp., then as senior partner and founder of a management consulting firm, to join Save the Children about four years ago.
CIO Insight executive editor Allan E. Alter spoke with Granger-Happ about NetHope's founding and mission, its work in tsunami relief, and how CIOs and other IT managers and professionals can help NetHope provide technical support.
Q. What is NetHope?
A. My 30-second description is that we're a group of the largest international non-profits who have banded together to bring ICT – information and communication technology – out to the most challenged areas of the world in which we work. The members are 15 of the largest international non-profits, representing a collective $3.5 billion relief and long term development aid. NetHope is in Sunnyvale, Calif., because that's where our executive director and finance director are. The members of the board come from throughout the U.S. and the U.K.
Q. What is its mission?
A. To make a difference in the world at the point where our members' programs touch children and families. The analogy for the for-profit world is where the products meet the customers. Our primary focus is the field worker who is sometimes hours or miles away from even the central field office in the country, administering relief programs like those in Banda Aceh, Indonesia, as well as long-term development, HIV, education, economic opportunity, and conservation-type work.
Q. Why was NetHope started?
A. It started with a white paper, called "Wiring the Virtual Village," I wrote during my first nine months at Save the Children and presented to Cisco Systems in March 2001. Essentially, it said if we band together as a group of non-profits, we can solve our communication and technology infrastructure problems faster and cheaper than if we continue to try to do it on our own. We all have the same IT issues: in the U.S and Europe IT infrastructure is taken for granted, but in the areas we work we can't even take electricity for granted. My compelling hypothesis No. 2 is that if we band together to solve these problems, we would be much more attractive to corporate technology partners. A technology company that is interested in philanthropic work could benefit 15 non-profits if it contributed technology, money or people through NetHope, not just one. They would leverage their gifts and time much more than with one-off grants to individual non-profits. It's also lower risk, because if one or two non-profits have difficulty implementing a grant (always a big concern for corporate partners), the other 12 or 13 who had success can help the other two come up to speed. I spent the first 24 years of my career in the for-profit world, and I was very encouraged by the openness and willingness of non-profits to share internal information and cooperate.
In early April 2001, I got a call from Cisco, when they were launching their Cisco Fellow program. Right after the dot.com bubble burst, companies like Cisco had a significant economic downturn. One expense-neutral alternative they found to downsizing was to give managers the option of working with a non-profit, and they would pay for a portion of the expenses. Financially, you come out better if you do this than if you lay off employees; otherwise, you'd have to pay severance and unemployment, and then hire a recruiter when you wanted to fill the position again at the end of the downturn. Two thirds of Cisco Fellows, however, return as an employee. They asked if we'd be interested in that, and I said absolutely. We hired the first Cisco Fellow in June 2001. That was Dipak Basu, and he's been the executive director of NetHope for its first three years. Dipak gets the credit for taking this vision of a cooperative among non-profits and making it happen. I was really just the idea person.
By the way, when people returned to Cisco after doing this fellowship program, they all said it was critical to their development as leaders. So now Cisco employees have the option of doing this for several months. It's become strategic for them.
Q. What is NetHope doing now to help the tsunami victims?
A. The key thing NetHope is doing is a project that began a year ago with some technology that had been developed by some Cisco engineers in North Carolina working with Inmarsat in London as a response to the Sept. 11 emergency, where communications and networking was knocked out in New York City. They came up with some off-the-shelf components they put together in a single box to provide what I call a "network-in-a-box." In relief situations you want to establish voice and data communications in 72 hours or less. In the initial stages of disaster relief, the first relief workers are highly mobile; they are doing situation assessments, determining what the key needs are and marshaling the resources and the equipment that's necessary to fulfill these needs. You need to have voice and data communications to make that happen. So we saw that network-in-a-box as a potential "net relief kit" (NRK). The kit, which is built by Cisco and now in its second generation, is the size of a weekender suitcase. It's meant to be out in a field location; it's ruggedized, runs off a car battery, and is cooled by multiple fans. It can support up to 50 laptops and four or more wireless telephones. It gives us a box with a handle that people flying to the disaster area can bring with them. NetHope has been the driving force behind developing that project, and Cisco has donated the engineering time and expertise to put the box together.
We had done two lab tests of the NRK and were scheduling field tests in Africa for this quarter when the tsunami hit. Our emergency people had reports about the problem within hours. Save the Children's field office at Banda Aceh was hit and our field office people were lost; all but two were later accounted for. We also lost ten midwives with a community partner. Many of the NetHope managers, like Catholic Relief Services, World Vision, Save the Children and others, who are responding to this emergency in Indonesia and Sri Lanka and to a lesser extent in Myanmar and India, said we need to take this NRK and get it into the field. We said this emergency will become our trial. It's not the typical way you build and do a trial, but if there's anything we've learned in IT it's that speed is essential in product development.
The way emergency response works, you get initial response people who try to get in there as soon as possible, determine the situation and what the needs are, and the people in headquarters try to martial the resources and goods—locally at first, so there's no shipping, but longer-term usually from the U.S. and other sources. This first phase is highly individual and highly mobile. These initial response people took satellite phones, thanks to an agreement we had already worked out with Iridium. We had daily conference calls among members of NetHope during the first phase, and shared our technology assessment information and discussed who can bring what technologies to bear. That information sharing and consulting among members is of enormous value to organizations like Save the Children; we don't have a large IT staff, and it feels especially small when we're operating in triage and crisis mode. That happened in Afghanistan and Iraq, and now it's happening in Indonesia.
The second phase in emergency response involves groups of people, but they're also highly mobile and need to talk with one another. We're now starting the second phase, and that's when the NRK will be used. Many of these groups will operate in tent communities; when we get in with the NRK, we connect their laptops. The kit is just going over now. Our director of networks will be the point person for the first kit. He's landed in Jakarta, and he'll be gathering the equipment he needs and will be going to Banda Aceh in the next few days.
Q. How many NRKs will be going out?
A. We've asked for ten. That's the preliminary request, and we haven't heard back yet what's possible. That's the challenge. They are still custom-made; it's the dedication of the engineers at Cisco in North Carolina that's putting them together. We're going to try to share the NRKs as much as possible, but there are bandwidth issues there. In some places we can only get a 64K connections, and there's only so much bandwidth you can share. Bandwidth is always an issue. Not until the third phase do we establish a more permanent office, and we will outfit that office with a VSAT or other connections, LANs and desktop PCs. When you get to the third phase the NRK is irrelevant because you get a VSAT in a more permanent building. The final way NetHope will be of value will be taking its learning and experiences and sharing it with non-members and developing countries. That's part of the philanthropic value of what NetHope is doing: Just as we benefit from our knowledge-sharing experiences, we want to turn around and open that to others.
Q. How will that knowledge-sharing be done?
A. NetHope members actually use IBM Lotus Domino QuickPlace, a donation IBM Lotus made to Save the Children. We have a library of posted documents and information, a discussion area, and folders for each of the emergencies and projects on which we're working. It's a fully searchable and indexed knowledge base of information, and we have close to four years of information in it now. And here's the tie-back to how open non-profits are to sharing information: If the head of network engineering at Oxfam has discussions with three satellite phone providers in the European Union, he'll summarize it and post it for the rest of the members. We don't all have to talk to those three EU phone providers.
Q. What will you be doing in the next two to eight weeks to help the tsunami victims?
A. I think phase 2 will last at least 90 days, maybe longer. With the extent of the damage we're seeing in the Banda Aceh area, it may take significantly longer before we can establish a field office that has electricity and communications. Again, NetHope is focused on that relief worker, the relief worker who is doing the food distributions and handling medical programs, crisis intervention in terms of psychological counseling for families and kids, and relocation services. Our job is to make that field workers' job as easy as possible, by giving him communications and by minimizing the amount of paperwork he needs to do. If you remember what it was like to work without e-mail and a computer, and think about how much easier it is now to do that much more, we want to give the same advantages to the field worker. We're bringing in laptops, LANs, wireless telephones, satellite telephones, portable satellite dishes, larger satellite dishes for the longer term, and the NRK is the network infrastructure that sits in the middle of that.
Communications is critical for security. In Iraq, communication is essential to make sure people are safe and accounted for. These areas we are going into now for tsunami relief have tenuous situations; there's a civil war and insurrections going on. Security is an issue there as well. It used to be, before the UN was bombed in Baghdad, that non-profits were immune. We could go in as politically and religiously neutral and meet dire needs wherever we went. That whole world changed with the UN bombing in Baghdad; we're no longer immune, we're now one of the targets. There have been kidnappings and bombings. It's a different world for non-profits. Now we have to spend time on security planning that we didn't have to do before. And that requires better technology.
Q. What can IT executives do to help the tsunami victims and NetHope?
A. To the degree they have bandwidth or technology they can share, that is of significant interest to us. Many laptops and desktop PCs are on two-year leases; CIOs ought to take them as they come off lease and donate them to non-profits, and get the tax write-off if you do the buy-out. It's a win-win. Check with your accounting department first, of course. We have a third-party "wiping service" to delete any data from the donated machines.
Q. How can companies share bandwidth?
A. Many companies have paid for large amounts of satellite transponder space; it's the rented space on the bird itself. To the extent they have transponder space on satellites that cover India, Sri Lanka and Indonesia, they can help. We still have to put satellite communications equipment on the ground, but the most expensive part is often the recurring transponder space rent. We've talked with some corporations about sharing network infrastructure, but global companies are in the major cities and that's not where we typically are. But they will have satellite transponder space. Many companies rent space for peak periods. When it's not peak time, there ought to be ways to donate transponder space.
There's another way CIOs could help, and that is to volunteer to act as advisers to the non-profit IT directors, from NetHope to the individual IT directors at the non-profits. Save the Children spends less than 1.5 percent of revenue on IT, and our headquarters IT department is 23 people for a 3,200-person organization in 40 countries. So we're excellent at taking slim resources and stretching them to do incredible things. But when you layer on top of it a disaster of this magnitude, where you have to turn your attention to those things, getting help and advice on more efficient ways to do the day-to-day blocking and tackling, or to even come and volunteer to fill in to do those things, would be very valuable. We're good at stretching things thin to run a normal operation, but add a disaster like this and it becomes an abnormal operation. We have daily stand-up meetings to look at everyone's top three things they are doing that impacts their response. There could be lots of other things that don't happen. Having people who are experts at crisis management and in applying medical triage to business situation would be invaluable to non-profits.
Q. What kinds of people from an IT staff would you want as volunteers?
A. It could be as basic as help-desk people who can configure PC laptops before they go out in the field. It could be network engineers who can run our data centers. At senior-management level, advisers on how to apply triage and crisis management to most efficiently manage hour-to-hour with our limited resources. To help, go to www.nethope.org. There's a link to contact us at http://www.nethope.org/contactus.html. Or call us at (408) 525-2451 or e-mail us at info [at] nethope.org. Those calls and e-mails will get funneled to Molly Tschang, our current executive director, who will take it from there. If anyone is interested in particular in Save the Children, contact me by email at ehapp [at] savechildren [dot] org rather than call.
Q. Is there anything else you'd like to add?
A. NetHope doesn't happen without our corporate partners, especially Cisco, IBM, Microsoft, Immarsat and Eutelsat. Microsoft and Cisco have worked with us from day one when this tragedy struck, asking us how they can help. Cisco has responded by speeding up the Net Relief Kit, and employees at both organizations are donating to Save the Children. They've been incredible partners. Beyond business partners, these are organizations that really care about making a difference, and they have taken a keen interest in having NetHope succeed.
And just two human-interest points: This is my third career. I worked on Wall Street for the first 14 years of my career, with First Boston, Chase, Lotus and Data Broadcasting Corp. Then I ran my own management consulting business in IT and balanced scorecard work for ten years before joining Save the Children. Which leads me to my second point: I could double my income at any corporate firm, but what's more important to me at this point in my career is having the ability to make an impact every day in what I do. When we get IT right, more kids get fed, more kids get inoculated, and more kids get educated and taught. The value of that is immeasurable. So my whole model has turned from pursuit of success to pursuit of significance.
CONTACT
Edward Granger-Happ
http://www.eghapp.blogspot.com/
http://www.nethope.org/about/board-of-directors/ed-granger-happ/
http://www.fairfieldreview.org/hpmd/EGHprofile.nsf/
email : ehapp [@] savethechildren [dot] org / ehapp [at] hpmd [dot] com
CROWD-FUNDING / MICROFINANCE
http://www.mercycorps.org/topics/microfinance
https://www.microplace.com/investments/details/Sevis+Finansye+Fonkoze+via+Oikocredit+GC+Note
https://www.microplace.com/learn_more/howitworks
http://grameenfoundation.wordpress.com/
https://secure3.convio.net/gfusa/site/Donation2?df_id=1820&1820.donation=form1
http://www.grameenfoundation.org/americas/haiti
http://www.kiva.org/about/inside/2010/01/13/earthquake-in-haiti-update-on-kiva.html
http://www.accion.org/Page.aspx?pid=225
http://www.accion.org/microcredit-vs-microfinance
FRONTLINE SMS
http://medic.frontlinesms.com/
http://credit.frontlinesms.com/
http://www.frontlinesms.com/download/
http://www.frontlinesms.com/who/
http://www.frontlinesms.com/
http://www.kiwanja.net/blog/category/frontlinesms/
ICT4D [KNOWLEDGE SHARING]
http://inventory.ict4peace.org/Haiti+Earthquake+-+January+2010
http://en.wikipedia.org/wiki/Information_and_communication_technologies_for_development
http://mayafrica.wordpress.com/the-abc-of-ict4d/
http://www.apdip.net/resources/case
http://www.infodev.org/en/Publication.107.html
http://celac.wordpress.com/
http://www.celac.or.ug/
http://successtories.wordpress.com/
ONE LAPTOP PER CHILD [NO HAITI?]
http://wiki.laptop.org/go/Regional_groups#20_Active_Groups_for_groups.laptop.org
$75 WATERPROOF COMPUTER w/CAMERA [SOLAR or CRANK?]
http://laptop.org/en/participate/get-involved.shtml
http://www.forbes.com/2009/12/22/tablet-computer-negroponte-technology-cio-network-olpc.html
Take a look at the designs for what could someday be the world's cheapest PC, and you may start to wish you were a third-grade child in Burundi.
BY Andy Greenberg / 12.22.09
One Laptop Per Child (OLPC), MIT professor Nicholas Negroponte's non-profit effort aimed at putting cheap educational laptops into the hands of developing world schoolchildren, is working on an upgrade to its so-called XO computer, once known as the "hundred-dollar laptop." That revamped machine, known as the XO-3 and targeted for release in 2012, is still more of a pipe dream than a product. But early designs for the PC reveal a minimalist slate of touch-powered electronics that drops practically every feature of a traditional computer except its 8.5-by-11-inch screen, a scheme that would shed all of the first XO's child-like clunkiness without losing its simple accessibility. "I wanted to bring the One Laptop Per Child identity to life in this new form," says Yves Behar, founder of FuseProject, which designed the both the original and the XO-3. "That meant taking the visual complexity away, bringing tactility and friendliness, touch and color."
Behar says he hopes to shrink the frame around the XO-3's display down to practically nothing, opting for a virtual keyboard instead of a physical one, and no buttons. The result, in his mock-ups, is a screen surrounded by only a thin green rubber gasket. "Nicholas [Negroponte] asked for something extremely simple and practically frameless," he says. "The media or content on the computer will be the prime visual element." In fact, that new form factor is just the beginning of OLPC's monstrous ambitions: It aims to make its tablet PC highly durable, all plastic, waterproof, half the thickness of an iPhone and use less than a watt of power, despite an 8-gigaherz processor. The price: an unprecedented $75.
Many of OLPC's goals, to be fair, are more imagination than road map. And Negroponte has a history of overpromising. The original XO never hit its original goal of $100, (it currently sells for $172) and another touch screen upgrade to the XO that Negroponte announced in May 2008 was quietly scrapped this year based on costs. But in this case, Negroponte's plan has a twist: As OLPC assembles the components for its dream machine, it plans to open the architecture of the device to allow any other PC maker to take over the project. Negroponte is more interested in pressuring the industry to make cheaper, more education-focused PCs than he is in manufacturing any specific machine. "We don't necessarily need to build it," Negroponte told Forbes. "We just need to threaten to build it."
Regardless of who puts their stamp on the ultra-cheap tablet, OLPC's biggest task may be getting the various components in line. A typical fragile, glass LCD screen hardly seems a wise choice in the hands of young children, or in countries with unpredictable and scarce electricity. So OLPC hopes to incorporate plastic back-plane components, possibly from Mountain View, Calif.-based Plastic Logic, that would be far more durable. The tablet will also likely use ultra low-power screens from start-up Pixel Qi with both reflective and LCD capabilities, created by former Negroponte disciple Mary Lou Jepsen. If Behar's design comes to fruition, the XO-3 will feature a camera on the back of the device and a finger-hold ring on the computer's corner. That loop, a metal cable that runs from the device's rim and is encased in the same rubber as the screen frame, can be used to steady the computer in the user's hand or to let it hang at one's side. Magnets in the loop could also be used to keep it tucked behind the machine, out of the way.
Those simple additions are the only departures from the tablet's minimalist design: Ideally, the machine won't even have a charging port. Behar says OLPC wants to use induction to wirelessly charge the battery through its rubber frame. "We wanted to remove all the scars that you typically see on a laptop from Lenovo or HP," he says. While the tablet isn't slated to appear until 2012, OLPC has other plans in the meantime. An incremental upgrade of the XO set for release in January will have several times the memory, storage and processing power of the current machine. The next upgrade, in 2011, will boost the machine's performance again and replace its AMD chip with a lower-power processor from phone chip maker Marvell.
When it comes to his plans for the $75 dream tablet, however, Negroponte admits his track record of lofty promises doesn't offer much assurance that this latest fantasy machine will appear. But he warns the computer industry not to underestimate OLPC. "Sure, if I were a commercial entity coming to you for investment, and I'd made the projections I had in the past, you wouldn't invest again," he says. "But we're not a commercial operation. If we only achieve half of what we're setting out to do, it could have very big consequences."
CONTACT
Nicholas Negroponte
http://web.media.mit.edu/~nicholas/
http://laptop.org/en/participate/index.shtml
email : nicholas [at] media.mit [dot] edu
ENDORSEMENT
http://www.i4u.com/article29451.html
BY Robert Evans / 23 Dec 2009
"One Laptop Per Child is a charity run by Nicholas Negroponte. Their goal is to provide laptops to every child in the developing world. One of the ways they do this is by selling their ultra-cheap machines to Westerners for double the price. That way you get a laptop, and you get to buy a laptop for some kid in Uganda or Somalia. While the current versions of the OLPC are fairly unimpressive, the XO-3, Negroponte's design for the 2012 OLPC, looks incredible.
Forbes reports that this new OLPC is going to be a totally stripped down, 8.5″-11" tablet PC. The only features of this tablet will be the touchscreen, and a little ring on the side to act as a hand-hold or to loop into a belt. The XO-3 will be simple and durable; it's going to be made entirely of plastic will be waterproof. It should pack an 8 GHz processor, but will use less than a watt of power. Remember; this thing isn't scheduled to hit until 2012.
The price is expected to be $75. Whether or not this device will ever launch, let alone at that price, remains to be seen. I really hope it does, though. One Laptop Per Child is an incredibly beneficial charity that allows poor children all around the world to connect to the Internet. It makes possible a level of communication and exposure to information that none of these children would otherwise have. Plus, the XO-3 is supposed to have a camera. That means Flickr will soon be populated with thousands of shots from OLPC owners in exotic locales all around the world. That alone is worth a donation or two.
PORTABLE GENERATORS
http://www.solarstik.com/
SOLAR OVENS
http://www.sunbdcorp.com/haiti.php
INFLATABLE SATELLITE ANTENNAS
http://www.gatr.com/index.php?option=com_content&task=view&id=60&Itemid=26
HEXAYURTS
http://www.appropedia.org/Hexayurt
http://hexayurt.com/
STAR-TIDES / STARFISH
http://star-tides.net/about/research
http://star-tides.net/files/STAR-TIDES%20-StarFish%20paper%20-%20DH%2070_0.pdf
http://www.ndu.edu/ctnsp/wells_bio.htm
http://www.wired.com/dangerroom/2008/10/fast-cheap-and/
Fast, Cheap and Sustainable:
Ex-Pentagon Geek Plots Disaster Relief 2.0
BY Nathan Hodge / October 16, 2008
Linton Wells used to be one of the Pentagon geeks-in-chief — a prime mover in the military's embrace of information technology. Now, he wants to encourage the Defense Deparment to network with relief agencies, civic organizations and the private sector in order to reboot disaster recovery. The goal of the tech-heavy effort is not only to avoid a Hurricane Katrina repeat. It's to get better at stabilizing failed states that could easily slip into radical hands. But first, the boys in uniform have to get over their traditional reluctance to cooperate with civilians.
Nation-building, perhaps by default, has become a core mission for the U.S. military. Last week, the Army unveiled its new stability operations manual. And this week, the Department of Defense is hosting a demonstration of some of the more innovative new tools for disaster relief and humanitarian assistance.
The project is called STAR-TIDES (Sustainable Technologies, Accelerated Research-Transportable Infrastructures for Development and Emergency Support). The acronym may be long, but the concept is simple: it is supposed to pull together cheap and effective solutions for humanitarian emergencies or post-war reconstruction.
Among the items on display at the Pentagon demo: solar cooking panels; Solar Stik portable power generators (pictured); inflatable satellite antennas; and water purification systems. It's an intriguing sight to see bureaucrats sip purified
Potomac River water in the Pentagon center court, or to watch a two-star general inspect a tree-hugger's Hexayurt shelter.
The buzzwords here are "affordable solutions," "sustainable support" or "capacity building" – all terms borrowed from the world of aid and development. STAR-TIDES is also part of a larger effort by Wells to spread the word these concepts within the Defense Department.
"We're not an operating agency," Wells said. "I'm coordinating this with a few colleagues on a more or less volunteer basis. If someone comes in and says, 'coordinate the next Katrina,' we're not in a position to do that. We are in a position to try to perhaps help the decisionmakers to think ahead and maybe get some of these coalitions built so there'd be better planning for whole-of-government, civil society, and maybe different scenarios they might not otherwise think of."
The current demo is set up for a few scenarios: disaster relief in Central America or the Western Pacific; stabilization and reconstruction in Afghanistan; and refugee support in sub-Saharan Africa. Some of the technology on display could also be used for "defense support to civil authorities" (think Hurricane Katrina).
A project like STAR-TIDES faces more than institutional resistance within the Pentagon; non-governmental organizations (NGOs) and aid groups are often wary of working with the military. Wells said he recognized the limitations.
"In many respects, the conflict-resolution NGOs are quite willing to work with the military, whereas the humanitarian assistance NGOs are more wary because their people are in the field and could be at risk," he said. "If they are seen going in and out of military facilities or communicating routinely with the military, instead of being neutral parties in the crisis, one side or the other can attribute to them the motives of the U.S. military. So they actually see in some cases their people being at risk. … What we try to do is recognize their constraints, recognize their environment, in a social network, trust-building type of arrangement. Deliver something of value that's useful to them and show how it's advantageous for them to work with the U.S."
STABILITY OPERATIONS FIELD MANUAL 3-07
usacac.army.mil/cac2/repository/FM307/FM3-07.pdf
http://www.army.mil/-newsreleases/2008/10/06/13091-army-unveils-new-stability-operations-manual/
http://smallwarsjournal.com/blog/2008/09/field-manual-307-stability-ope/
CIVIL-MILITARY INTERACTION REPORT : STRONG ANGEL III
www.strongangel3.net/files/sa/10-20-30.pd
http://en.wikipedia.org/wiki/Strong_Angel
http://www.strongangel3.net/
PREVIOUSLY
HASTILY FORMED RELIEF NETWORKS
http://spectrevision.net/2006/08/17/strong-angel-iii-hastily-formed-networks/
TXTBANKNG THE UNBANKED
http://spectrevision.net/2009/07/10/sms-banking-in-kenya/
ONE CELLPHONE PER CHILD
http://spectrevision.net/2008/09/21/one-cellphone-per-child
KATRINA 2.0
http://spectrevision.net/2008/09/01/katrina-20/
R U IN JAIL?
http://spectrevision.net/2008/04/01/r-u-in-jail/
U.S. STOPS DEPORTING HAITIANS
http://www.csmonitor.com/World/Global-News/2010/0113/Haiti-earthquake-US-stops-deporting-Haitians
GUANTANAMO BACK to being REFUGEE CAMP
http://www.miamiherald.com/news/americas/guantanamo/story/1438773-p2.html
http://www.washingtonpost.com/wp-dyn/content/article/2010/01/21/AR2010012103547.html
Workers have also been preparing tents at Guantanamo Bay for Haitian migrants in case the earthquake spurs a mass migration. This is not a new role for the base: At any given moment, the facility temporarily holds small groups of migrants, mostly from Cuba. In the 1990s, Guantanamo housed tens of thousands of Haitian boat people until they could be sent home. About 100 tents, each capable of holding 10 people, have been erected. The U.S. has capacity to hold up to 13,000 at that site, which is on the opposite side of the base, separated by 2 1/2 miles of water, from the detention center for terrorism suspects. Blaisdell said he is considering additional places in case more space is needed.
At the prison, Friday's deadline for the closure of the base prison was a nonevent. Behind walls of razor wire, officials say they will be on alert for protests by prisoners. But Army Col. Bruce Vargo, the guard force commander, said the reduced population and the decision to house nearly 75 percent of the men in communal settings has eased tensions. He does not expect significant trouble. The delay in closing the base has angered Guantanamo's many critics, but attorneys for prisoners say most of their clients were always skeptical that they would be going home soon. Many of them now have regular access to the news and could read copies of Obama's order posted around the camps. "When they saw how slow the review process became and the tiny trickle of men transferred from Guantanamo, they were realistic and saw it would be impossible to meet the Jan. 22 deadline," said David Remes, a Washington attorney for 18 prisoners.
Navy Rear Adm. Thomas Copeman, commander of the task force that runs the detention center, views with pride the base's role in trying to solve the humanitarian crisis. "The ability to conduct real-world humanitarian assistance and disaster relief … that's more exhilarating at the moment then walking the block in the detention camp, not to say that walking the block is not an extremely important mission for the United States but probably not as gratifying as saving someone's life."
EXPECTATIONS of VIOLENCE, CORDON against REFUGEES
http://todayspictures.slate.com/20100121/
http://www.slate.com/id/2242078/
Why Did We Focus on Securing Haiti, Rather Than Helping Haitians?
Here are two possibilities, neither of them flattering.
BY Ben Ehrenreich / Jan. 21, 2010
By the weekend, it was clear that something perverse was going on in Haiti, something savage and bestial in its lack of concern for human life. I'm not talking about the earthquake, and certainly not about the so-called "looting," which I prefer to think of as the autonomously organized distribution of unjustly hoarded goods. I'm talking about the U.S. relief effort.
For two days after the quake, despite almost unimaginable destruction, there were reasons to be optimistic. With a few notable exceptions—Pat Robertson and David Brooks among them—Americans reacted with extraordinary and unhesitating generosity of spirit and of purse. Port-au-Prince is not much farther from Washington, D.C., than, say, New Orleans, and the current president of the United States, unlike his predecessor, was quick to react to catastrophe. Taking advantage of "our unique capacity to project power around the world," President Barack Obama pledged abundant aid and 10,000 troops. Troops? Port-au-Prince had been leveled by an earthquake, not a barbarian invasion, but, OK, troops. Maybe they could put down their rifles and, you know, carry stuff, make themselves useful. At least they could get there soon: The naval base at Guantanamo was barely 200 miles away.
The Cubans, at least, would show up quickly. It wasn't until Friday, three days after the quake, that the "supercarrier" USS Carl Vinson, arrived—and promptly ran out of supplies. "We have communications, we have some command and control, but we don't have much relief supplies to offer," admitted Rear Adm. Ted Branch. So what were they doing there?
"Command and control" turned out to be the key words. The U.S. military did what the U.S. military does. Like a slow-witted, fearful giant, it built a wall around itself, commandeering the Port-au-Prince airport and constructing a mini-Green Zone. As thousands of tons of desperately needed food, water, and medical supplies piled up behind the airport fences—and thousands of corpses piled up outside them—Defense Secretary Robert Gates ruled out the possibility of using American aircraft to airdrop supplies: "An airdrop is simply going to lead to riots," he said. The military's first priority was to build a "structure for distribution" and "to provide security." (Four days and many deaths later, the United States began airdropping aid.)
The TV networks and major papers gamely played along. Forget hunger, dehydration, gangrene, septicemia—the real concern was "the security situation," the possibility of chaos, violence, looting. Never mind that the overwhelming majority of on-the-ground accounts from people who did not have to answer to editors described Haitians taking care of one another, digging through rubble with their bare hands, caring for injured loved ones—and strangers—in the absence of outside help. Even the evidence of "looting" documented something that looked more like mutual aid: The photograph that accompanied a Sunday New York Times article reporting "pockets of violence and anarchy" showed men standing atop the ruins of a store, tossing supplies to the gathered crowd.
The guiding assumption, though, was that Haitian society was on the very edge of dissolving into savagery. Suffering from "progress-resistant cultural influences" (that's David Brooks finding a polite way to call black people primitive), Haitians were expected to devour one another and, like wounded dogs, to snap at the hands that fed them. As much as any logistical bottleneck, the mania for security slowed the distribution of aid.
Air-traffic control in the Haitian capital was outsourced to an Air Force base in Florida, which, not surprisingly, gave priority to its own pilots. While the military flew in troops and equipment, planes bearing supplies for the Red Cross, the World Food Program, and Doctors Without Borders were rerouted to Santo Domingo in neighboring Dominican Republic. Aid flights from Mexico, Russia, and France were refused permission to land. On Monday, the British Daily Telegraph reported, the French minister in charge of humanitarian aid admitted he had been involved in a "scuffle" with a U.S. commander in the airport's control tower. According to the Telegraph, it took the intervention of the United Nations for the United States to agree to prioritize humanitarian flights over military deliveries.
Meanwhile, much of the aid that was arriving remained at the airport. Haitians watched American helicopters fly over the capital, commanding and controlling, but no aid at all was being distributed in most of the city. On Tuesday, a doctor at a field hospital within site of the runways complained that five to 10 patients were dying each day for lack of the most basic medical necessities. "We can look at the supplies sitting there," Alphonse Edward told Britain's Channel 4 News.
The much-feared descent into anarchy stubbornly refused to materialize. "It is calm at this time," Lt. Gen. Ken Keen, deputy commander of the U.S. Southern Command, admitted to the AP on Monday. "Those who live and work here … tell me that the level of violence that we see right now is below pre-earthquake levels." He announced that four—four, in a city of more than 2 million—aid-distribution points had been set up on the sixth day of the crisis.
So what happened? Why the mad rush to command and control, with all its ultimately murderous consequences? Why the paranoid focus on security above saving lives? Clearly, President Obama failed to learn one of the basic lessons taught by Hurricane Katrina: You can't solve a humanitarian problem by throwing guns at it. Before the president had finished insisting that "my national security team understands that I will not put up with any excuses," Haiti's fate was sealed. National security teams prioritize national security, an amorphous and expensive notion that has little to do with keeping Haitian citizens alive.
This leaves the more disturbing question of why the Obama administration chose to respond as if they were there to confront an insurgency, rather than to clear rubble and distribute antibiotics and MREs. The beginning of an answer can be found in what Rebecca Solnit, author of A Paradise Built in Hell, calls "elite panic"—the conviction of the powerful that their own Hobbesian corporate ethic is innate in all of us, that in the absence of centralized authority, only cannibalism can reign.
But the danger of hunger-crazed mobs never came up after the 2004 Pacific tsunami, and no one mentions security when tornados and floods wipe out swaths of the American Midwest. This suggests two possibilities, neither of them flattering. The first is that the administration had strategic reasons for sending 10,000 troops that had little to do with disaster relief. This is the explanation favored by the Latin American left and, given the United States' history of invasion and occupation in Haiti (and in the Dominican Republic and Cuba and Nicaragua and Grenada and Panama), it is difficult to dismiss. Only time will tell what "reconstruction" means.
Another answer lies closer to home. New Orleans and Port-au-Prince have one obvious thing in common: The majority of both cities' residents are black and poor. White people who are not poor have been known, when confronted with black people who are, to start locking their car doors and muttering about their security. It doesn't matter what color our president is. Even when it is ostensibly doing good, the U.S. government can be racist, and, in an entirely civil and bureaucratic fashion, savagely cruel.
THOUSANDS of ARMED PRISONERS at LARGE
LOCALS LYNCH ESCAPED GANG LEADER
http://www.guardian.co.uk/world/audio/2010/jan/21/haiti-natural-disasters
http://www.guardian.co.uk/world/2010/jan/20/haiti-escaped-prisoners-cite-soleil
Haiti escaped prisoners chased out of notorious slum Cité Soleil
Ed Pilkington and Tom Phillips, in Cité Soleil / 20 January 2010
When the 3,000 inmates of the central prison in Port-au-Prince unexpectedly gained their freedom, courtesy of the earthquake, everybody knew where they would be headed: Cité Soleil, the poorest area of this poorest city, in whose maze of streets they could vanish.
But the fugitives hadn't counted on one thing: the determination of Cité Soleil's people not to let them back. "We've got so many huge problems because of the earthquake, we have so little food, water and medicines, we can't deal with another huge problem," said Caries Rubens, 26, one of the area's 300,000 people.
Several of the escapers had been gang leaders in the slum neighbourhood, ensnaring and terrorising the people with drugs and guns. Nobody wanted to see them regain their hold. When news that the earthquake had granted the prisoners early parole reached Cité Soleil, a committee was set up, then vigilante security teams. Prisoners spotted re-entering the area were chased and run out of town. Those who were caught came to a more definitive end. Bled, one of the most notorious gang leaders whose moniker derives from what happened to his many murder and kidnapping victims, was welcomed back by a lynch mob wielding machetes.
That the people of this downtrodden place have shown a determination to stand up to gang leaders is a sign of the change that has taken root in Cité Soleil. Between 2002 and 2006 the area was almost entirely in the grip of the gangs, but in the last three years, partly through the intervention of UN peacekeepers and partly through communal self-help, the gangs' power has waned and the people's confidence has grown.
Rubens is a member of a local charity that tries to help the young find an alternative path to adulthood through education rather than violence and drugs. "It's very difficult to ask a young kid to stay out of the gangs in Cité Soleil," said Fedora Camille Chevry, who set up the charity Fondation Roussan Camille. "To do that there has to be hope and in Cité Soleil there is so little hope. By providing them with a way of opening up their minds, we try and give them that hope."
If the foundation is trying to work to shore up the community from within, from the outside UN forces are keeping a close eye on Cité Soleil for fear that the prison breakout might prompt a slide back into the dark past. Their commanding officer has vowed to "intensify" operations to recapture the escapees.
General Florianao Peixoto said his troops had drawn up a list of targets and had already begun making arrests. "We are going to have to carry out more intensive activities to get these elements back where they belong. The hypothesis is that these leaders will regroup to carry out collective operations. But I have a military force that is far superior to that of any gang."
"We know the area and we have it under control," said Captain Italo Monsores, a Brazilian marine, during a tour of Cité Soleil's rubble-strewn streets. The threat, like in so much of this stricken city, is that the devastation will destroy the fragile gains of recent years. Cité Soleil is a chaotic jumble of concrete houses interspersed with corrugated iron shacks. Several of the structures have collapsed, including a school where the metal roof has fallen on to wooden desks stamped with the logo of the UN children's agency Unicef.
The death toll here was probably lower than in other parts by dint of the houses being low-rise, but many people were wounded in an area with primitive medical services. We came across a woman whose left arm had been burnt to a blackened crust. She had been cooking when the earthquake happened, tipping a saucepan of boiling water over her. Her arm looked as though it were weeping and in risk of infection. Down the road a long line of women was queuing with buckets at a water tanker. There was scuffling and shouting at the front – unsurprisingly as Cité Soleil has been without drinking water for days. We were taken to see the central water tower, which had keeled over.
Food remains difficult to find. We passed a small shop selling balloons, brooms, salami, lollipops and other random items. The owner now sells his wares from behind a metal grille. "Times are hard," he said. "People might be tempted to rob." As Rubens puts it: "You want to know how we feel? We feel alone." But there is grit and imagination here too. Up above the iron roofs, under the flight path of Black Hawk helicopters ferrying supplies, a kite made of plastic and paper flapped in the wind.
ALTERNATIVE to MILITARY is WHO EXACTLY?
http://smallwarsjournal.com/blog/2008/01/insourcing-the-tools-of-nation/
http://www.washingtonpost.com/wp-dyn/content/article/2008/02/14/AR2008021403433.html
http://www.washingtonpost.com/wp-dyn/content/article/2010/01/15/AR2010011502457.html
After the earthquake, how to rebuild Haiti from scratch
By Jeffrey D. Sachs / January 17, 2010
President Obama has declared that the United States will not forsake Haiti in its moment of agony. Honoring this commitment would be a first for Washington. To prevent a deepening spiral of death, the United States will have to do things differently than in the past. American relief and development institutions do not function properly, and to believe otherwise would be to condemn Haiti's poor and dying to our own mythology.
In Haiti, we are facing not only a horrific natural disaster but the tectonics of nature, poverty and politics. Even before last week's earthquake, roughly half of the nation's 10 million inhabitants lived in destitution, in squalid housing built of adobe or masonry without reinforcements, perched precariously on hillsides. The country is still trying to recover from the hurricanes of 2008 as well as longtime social and political traumas. The government's inability to cope has been obvious, but those of us who have been around Haiti for many years also know about the lofty international promises that follow each disaster — and how ineffectual the response has been each time.
In the past two decades, U.S. interventions have done much more harm than good to the Haitian economy. In the early 1990s, Washington thought it did Haiti a favor by imposing a crushing trade embargo to bring about democratization — specifically, the reinstatement of democratically elected President Jean-Bertrand Aristide. The embargo destroyed Haiti's fragile manufacturing industries. Then, true to America's political swings, ideologues in the Bush administration spent years trying to oust Aristide, first by foisting a de facto and illegal aid freeze on international development agencies, and then by brazenly toppling Aristide and carrying him to the Central African Republic. Congress took a pass on reviewing these sordid events, pausing only to declare its love for the Haitian people.
Now it's time to save Haitian lives by the millions, or watch a generation perish. A serious response will require a new approach. President Obama should recognize that the U.S. government alone lacks the means, attention span and true regard for Haiti that is needed to see this through past the most urgent phase. After the coming weeks, during which U.S. emergency airlift assistance is essential, the effort should be quickly internationalized, in an effective manner that acknowledges U.S. political realities and leverages the help that Washington will give.
Typically, a tragedy such as this is followed by international pledges of billions of dollars, but then only a slow trickle of help. The government of Haiti, overwhelmed far before this earthquake, is in no position to pester 20 or more complicated donor agencies to follow up on designing projects and disbursing funds. The recovery operation needs money in the bank — in a single, transparent, multidonor recovery fund for Haiti and the world to see. Haiti does not need a pledging session; it needs a bank account to fund its survival and reconstruction. The Inter-American Development Bank would be an excellent venue; it is well-run and highly regarded, already serves as Haiti's largest development financier and could bring in donor partners from around the globe.
How would a Haiti Recovery Fund be organized? It should receive emergency outlays from the United States and other donors; organize a board that includes members appointed by Haitian President René Préval, the U.N. secretary general and donors; and empower a management team to formulate and execute plans agreed to by the Haitian government. Very soon, the first phase of recovery operations in Haiti will end. Tragically, tens or hundreds of thousands will have died under the rubble, with relief and equipment arriving too late. Now the race is on to save Haiti itself. Its capital, a city without reserves of food, water, power, shelter, hospitals, medicine and other vital supplies, faces the real possibilities of hunger, epidemics and civil unrest. And the rest of the country is like a body without a head. The port is shut, the government is overwhelmed, many U.N. peacekeepers have transferred to Port-au-Prince, and the normal operations of government, skimpy as they once were, have broken down entirely.
The recovery fund would focus first on restoring basic services needed for survival. For months to come, medical supplies from abroad should be stockpiled and then distributed in the capital and beyond. Makeshift surgical units and clinical facilities will be essential. Power plants on offshore barges will be needed for electricity until new plants can be constructed. The salaries of public workers — especially teachers, police officers, nurses, reconstruction workers and engineers — must be assured, despite an utter collapse of revenues. Haiti's currency will need to be backed by international reserves so that the demand for public spending does not create harrowing inflation. The Haiti Recovery Fund, together with a quick-disbursing grant from the International Monetary Fund, should provide the needed reserves and budget financing.
Emergency relief should quickly and seamlessly transform into reconstruction and development. Indeed, if we stop at humanitarian relief alone, Haiti will be back in crisis soon enough, after the next disaster. The first step in this transition is food security: Haiti's farmers will need seed and fertilizer within weeks if they are to grow food for a destitute country. The displaced urban population will need income support or food transfers to subsist. The World Food Program's effective food-for-work projects can help feed workers recruited to rebuild roads and buildings.
After the extreme emergency period over the next few weeks, growing more food in Haiti will be far cheaper, more reliable and more sustainable than living on imported food aid. Supplying the farm inputs to Haiti will require more grants — as impoverished farmers have no capacity to buy seeds, fertilizer and small-scale equipment — as well as official aid to help deliver such materials to Haiti's remote villages.
New shelters must not be makeshift units that would be destroyed by Haiti's frequent floods, landslides and hurricanes. The country will need a revived and expanded construction industry to produce the brick, reinforced concrete and other vital materials. Private companies, domestic and international, should be contracted to set up operations. China is capable of quickly dismantling a factory, putting it in containers on ships and reconstructing it within weeks in a foreign location. Such efforts are needed immediately. (The asphalt for Liberia's roads comes from a Chinese factory assembled this way in the capital, Monrovia.) The list of needs goes on; it was very long and urgent even before last week's calamity.
The Haiti Recovery Fund should be constituted for five years — a suitable period to respond to such a challenge. Electoral politics in Haiti should be suspended for at least one year as well. This is no time for national elections; the people's survival is the first purpose of politics. How much money would the Haiti Recovery Fund need? And where should it come from? Here is a rough estimate: Before the earthquake but after the hurricanes, I had calculated an urgent (and unmet) development financing need of $1.4 billion per year for Haiti, up from about $300 million currently. Basic urgent reconstruction costs will add perhaps another $5 billion to $10 billion over the next few years. One can imagine annual disbursements of $2 billion to $3 billion annually over the next five years.
Obama should seek an immediate appropriation of at least $1 billion this year and next for a Haiti Recovery Fund, and ask other countries and international agencies to fill in the rest, not with promises but with cash. The obvious way for Washington to cover this new funding is by introducing special taxes on Wall Street bonuses, utterly unjustified payments that will be announced in the next days. Haiti will suffer a quick death of hunger and disease unless we act, and the United States will suffer a slow and painful moral death unless we respond to the extreme distress of our neighbors, whom we have neglected for so long and, at times, even put in harm's way.
CRISIS PROFITEERING
http://mobile.thenation.com/doc/20100201/scahill
BY Jeremy Scahill /
"We saw this type of Iraq-style disaster profiteering in New Orleans, and you can expect to see a lot more of this in Haiti over the coming days, weeks and months. Private security companies are seeing big dollar signs in Haiti thanks in no small part to the media hype about "looters." After Katrina, the number of private security companies registered (and unregistered) multiplied overnight. Banks, wealthy individuals, the US government all hired private security. I even encountered Israeli mercenaries operating an armed checkpoint outside of an elite gated community in New Orleans. They worked for a company called Instinctive Shooting International. (That is not a joke).
Now, it is kicking into full gear in Haiti. The Orwellian-named mercenary trade group International Peace Operations Association didn't waste much time in offering the "services" of its member companies to swoop down on Haiti for some old-fashioned "humanitarian assistance" in the form of disaster profiteering. Within hours of the massive earthquake in Haiti, the IPOA created a special webpage for prospective clients, saying: "In the wake of the tragic events in Haiti, a number of IPOA's member companies are available and prepared to provide a wide variety of critical relief services to the earthquake's victims."
While some of the companies specialize in rapid housing construction, emergency relief shelters and transportation, others are private security companies that operate in Iraq and Afghanistan, such as Triple Canopy, the company that took over Blackwater's massive State Department contract in Iraq. For years, Blackwater played a major role in IPOA until it left the group following the 2007 Nisour Square massacre.
In 2005, while still a leading member of IPOA, Blackwater's owner Erik Prince deployed his forces in New Orleans in the aftermath of Hurricane Katrina. Far from some sort of generous gift to the suffering people of the US gulf, Blackwater raked in some $70 million in Homeland Security contracts that began with a massive no-bid contract to provide protective services for FEMA. Blackwater billed US taxpayers $950 per man per day.
The current US program under which armed security companies work for the State Department in Iraq–the Worldwide Personal Protection Program–has its roots in Haiti during the Clinton administration. In 1994, private US forces, such as DynCorp, became a staple of US operations in the country following the overthrow of Jean-Bertrand Aristide by CIA-backed death squads. When President Bush invaded Iraq, his administration radically expanded that program and turned it into the privatized paramilitary force it is today. At the time of his overthrow in 2004, Aristide was being protected by a San Francisco-based private security firm, the Steele Foundation.
Beyond the establishment mercenary industry's activities in Haiti, look for more stories like this one: On January 15, a Florida-based company called All Pro Legal Investigations registered the URL Haiti-Security.com. It is basically a copy of the company's existing US website but is now targeted for business in Haiti, claiming the "purpose of this site is to assure construction and reconstruction companies considering a Haiti project that professional security is available."
"All Protection and Security has made a commitment to the Haitian community and will provide professional security against any threat to prosperity in Haiti," the site proclaims. "Job sites and supply convoys will be protected against looters and vandals. Workers will be protected against gang violence and intimidation. The people of Haiti will recover, with the help of the good people from the world over."
The company boasts that it has run "Thousands of successful missions in Iraq and Afghanistan." As for its personnel, "Each and every member of our team is a former Law Enforcement Officer or former Military service member," the site claims. "If Operator experience, training and qualifications matter, choose All Protection and Security for your high-threat Haiti security needs." Among the services offered are: "High Threat terminations," dealing with "worker unrest," armed guards and "Armed Cargo Escorts." Oh, and apparently they are currently hiring.
What is unfolding in Haiti seems to be part of what Naomi Klein has labeled the "Shock Doctrine." Indeed, on the Heritage Foundation blog, opportunity was being found in the crisis with a post titled: "Amidst the Suffering, Crisis in Haiti Offers Opportunities to the U.S." "In addition to providing immediate humanitarian assistance, the U.S. response to the tragic earthquake in Haiti earthquake offers opportunities to re-shape Haiti's long-dysfunctional government and economy as well as to improve the public image of the United States in the region," wrote Heritage fellow Jim Roberts in a post that was subsequently altered to tone down the shock-doctrine language. The title was later changed to: "Things to Remember While Helping Haiti" and the wording changed to "In addition to providing immediate humanitarian assistance, the U.S. response to the tragic earthquake in Haiti should address long-held concerns over the fragile political environment that exists in the region.""
PEACEOPS
http://peaceops.org/poi/
http://www.peaceops.org/law/
IPOA
http://ipoaworld.org/eng/haiti.html
http://ipoaworld.org/eng/aboutipoa.html
"IPOA is a 501(c)(6) non-profit trade association. IPOA's mission is to: promote high operational and ethical standards of firms active in the peace and stability operations industry; to engage in a constructive dialogue and advocacy with policy-makers about the growing and positive contribution of these firms to the enhancement of international peace, development and human security; to provides unique networking and business development opportunities for its member companies; and to inform the concerned public about the activities and role of the industry. IPOA is committed to raising the standards of the peace and stability operations industry to ensure sound and ethical professionalism and transparency in the conduct of peacekeeping and post-conflict reconstruction activities. All member companies subscribe to the IPOA Code of Conduct, which represents a constructive effort towards better regulating private sector operations in conflict and post-conflict environments. It reflects our belief that high standards will both benefit the industry and serve the greater causes of peace, development, and human security."
DISASTER CAPITALISM
http://www.democracynow.org/2010/1/14/naomi_klein_issues_haiti_disaster_capitalism
http://www.naomiklein.org/articles/2010/01/haiti-disaster-capitalism-alert-stop-them-they-shock-again
https://www.youtube.com/watch?v=EsGDP-yfduo
CRISIS as OPPORTUNITY
http://74.125.93.132/search?q=cache:X2tagj8j4TYJ:blog.heritage.org/2010/01/13/amidst-the-suffering-crisis-in-haiti-offers-opportunities-to-the%20u-s/+"amidst+the+suffering+crisis+in+haiti+offers+opportunities%%2022&cd=1&;hl=en&ct=clnk&gl=us
Amidst the Suffering, Crisis in Haiti Offers Opportunities to the U.S.
BY Jim Roberts / January 13th, 2010
"In addition to providing immediate humanitarian assistance, the U.S. response to the tragic earthquake in Haiti earthquake offers opportunities to re-shape Haiti's long-dysfunctional government and economy as well as to improve the public image of the United States in the region. The U.S. government response should be bold and decisive. It must mobilize U.S. civilian and military capabilities for short-term rescue and relief and long-term recovery and reform. President Obama should tap high-level, bipartisan leadership. Clearly former President Clinton, who was already named as the U.N. envoy on Haiti, is a logical choice. President Obama should also reach out to a senior Republican figure, perhaps former President George W. Bush, to lead the bipartisan effort for the Republicans.
While on the ground in Haiti, the U.S. military can also interrupt the nightly flights of cocaine to Haiti and the Dominican Republic from the Venezuelan coast and counter the ongoing efforts of Venezuelan President Hugo Chavez to destabilize the island of Hispaniola. This U.S. military presence, which should also include a large contingent of U.S. Coast Guard assets, can also prevent any large-scale movement by Haitians to take to the sea in rickety watercraft to try to enter the U.S. illegally.
Meanwhile, the U.S. must be prepared to insist that the Haiti government work closely with the U.S. to insure that corruption does not infect the humanitarian assistance flowing to Haiti. Long-term reforms for Haitian democracy and its economy are also badly overdue.
Congress should immediately begin work on a package of assistance, trade, and reconstruction efforts needed to put Haiti on its feet and open the way for deep and lasting democratic reforms. The U.S. should implement a strong and vigorous public diplomacy effort to counter the negative propaganda certain to emanate from the Castro-Chavez camp. Such an effort will also demonstrate that the U.S.'s involvement in the Caribbean remains a powerful force for good in the Americas and around the globe.
REVISED
http://blog.heritage.org/2010/01/13/things-to-remember-while-helping-haiti/
Today, the United States began surveying the damage inflicted by a devastating earthquake in Haiti this week. In addition to providing immediate humanitarian assistance, the U.S. response to the tragic earthquake should address long-held concerns over the fragile political environment that exists in the region.
The U.S. government response should be bold and decisive. It must mobilize U.S. civilian and military capabilities for short-term rescue and relief and long-term recovery and reform. President Obama should tap high-level, bipartisan leadership. Clearly former President Clinton, who was already named as the U.N. envoy on Haiti, is a logical choice. President Obama should also reach out to a senior Republican figure, perhaps former President George W. Bush, to lead the bipartisan effort for the Republicans.
While on the ground in Haiti, the U.S. military can also interrupt the nightly flights of cocaine to Haiti and the Dominican Republic from the Venezuelan coast and counter the ongoing efforts of Venezuelan President Hugo Chavez to destabilize the island of Hispaniola. This U.S. military presence, which should also include a large contingent of U.S. Coast Guard assets, can also prevent any large-scale movement by Haitians to take to the sea in dangerous and rickety watercraft to try to enter the U.S. illegally.
Meanwhile, the U.S. must be prepared to insist that the Haiti government work closely with the U.S. to insure that corruption does not infect the humanitarian assistance flowing to Haiti. Long-term reforms for Haitian democracy and its economy are also badly overdue. Congress should immediately begin work on a package of assistance, trade, and reconstruction efforts needed to put Haiti on its feet and open the way for deep and lasting democratic reforms.
The U.S. should implement a strong and vigorous public diplomacy effort to counter the negative propaganda certain to emanate from the Castro-Chavez camp. Such an effort will also demonstrate that the U.S.'s involvement in the Caribbean remains a powerful force for good in the Americas and around the globe.
"NO LOANS" – DEBT ACTIVISTS MAKE BREAKTHROUGH
http://www.npr.org/templates/story/story.php?storyId=122802377
Global Activism At Work: IMF Clarifies Loan
BY Richard Kim / January 21, 2010
"Last Friday I wrote about the IMF's new $100 million loan to Haiti. I cited debt relief activists who told me that the new loan would be an extension of the IMF's existing loan of $165 million. This information was confirmed by the IMF's press release, which stated that "emergency financing would be provided as an augmentation to the existing IMF-supported arrangement with Haiti under the Extended Credit Facility [ECF]." The IMF's announcement provided no further information about conditions that may or may not be attached to the loan and made no mention of future debt relief for Haiti.
My post was based largely on an analysis by Soren Ambrose, the development finance coordinator of ActionAid International, who concluded that augmenting the existing ECF loan to Haiti would impose the same conditions as the original loan. Those conditions include raising prices for electricity, refusing pay raises for any public sector employees except those making minimum wage and keeping inflation as low as possible. Ambrose says that he doesn't know of any established procedure that would exempt an augmentation of an existing program from the program's conditions. (His analysis also noted that Haiti's existing program with the IMF was due to expire at the end of this month and that negotiations on the loan's terms were likely underway already.)
As the IMF announced its $100 million loan under vague and presumably onerous terms, debt relief activists like the folks at Jubilee USA were already calling for a different kind of global response. They were demanding that aid to Haiti come in the form of grants, not loans. But given the magnitude of the crisis and the fact that the IMF does not issue grants, they welcomed the IMF loan in the hopes that its terms could be altered in the future and that Haiti's entire debt could be canceled. At the same time, Naomi Klein and others warned about the possibility that the earthquake would be used as a pretext to amp up Haiti's exposure to the shock doctrine. Activists started a Facebook group, No Shock Doctrine for Haiti, and in less than a week, it has attracted almost 18,000 members. Appeals for debt relief and for the recognition of Haiti's economic sovereignty were written to the Obama administration, the IMF, the World Bank and anyone else who might play a role in Haiti's reconstruction.
Today, the IMF put out an announcement clarifying the terms of its new loan to Haiti — it's "an interest-free loan of $100 million in emergency funds." A spokesman for the IMF emailed me to confirm that "the US $100 million loan does not carry any conditionality. It is an emergency loan aimed at getting the Haitian economy back to function again…" The IMF's managing director Dominique Strauss-Kahn said in a statement that the IMF would immediately work to cancel the entirety of Haiti's debt ($265 million) to the fund:
"The most important thing is that the IMF is now working with all donors to try to delete all the Haitian debt, including our new loan. If we succeed—and I'm sure we will succeed—even this loan will turn out to be finally a grant, because all the debt will have been deleted."
In other words, as the IMF is processing a loan, it is also making a public promise to try to cancel it.
Klein says that this is "unprecedented in my experience and shows that public pressure in moments of disaster can seriously subvert shock doctrine tactics." Neil Watkins, Executive Director of Jubilee USA, likewise hails the IMF's response. "Since the IMF's announcement last week of its intention to provide Haiti with a $100 million loan, Jubilee USA and our partners have been calling for grants and debt cancellation—not new loans—for Haiti. We are pleased that Managing Director Strauss-Kahn has responded to that call."
Watkins and others will continue to follow the issue, holding the IMF to its commitment to debt relief and non-conditionality. They're also pressing the case on Haiti's other outstanding debt. The largest multilateral holders of Haiti's debt are the Inter-American Development Bank ($447 million), the IMF ($165 million, plus $100 million in new lending), the World Bank's International Development Association ($39 million) and the International Fund for Agricultural Development ($13 million). The largest bilateral loans are held by Venezuela ($295 million—hello, Chavez!?) and Taiwan ($92 million). The lesson: global activism can work, especially in a moment of such acutely visible human need. Keep up the mobilization, on Facebook and in real life.
JUBILEE ACT / HR 4405 [DEBT RELIEF]
http://www.jubileeusa.org/jubilee-act.html
http://www.jubileeusa.org/jubilee-act/07jacountries.html
for Responsible Lending and Expanded Debt Cancellation
DROP the DEBT
http://www.one.org/us/actnow/drophaitiandebt/index.html
IMF RECOMMENDS DEBT FORGIVENESS, MARSHALL PLAN
http://en.wikipedia.org/wiki/Dominique_Strauss-Kahn
http://english.aljazeera.net/business/2010/01/201012134313606654.html
IMF urges 'Marshall Plan' for Haiti
The head of the International Monetary Fund (IMF) has called for an ambitious international recovery plan for earthquake-ravaged Haiti, similar to the US "Marshall Plan" that rebuilt Europe after World War II. "My belief is that Haiti, which has been incredibly hit by different things – the food and fuel prices crisis, then the hurricane, then the earthquake – needs something that is big," Dominique Strauss-Kahn told reporters on Wednesday.
What is needed, he said, is "not only a piecemeal approach, but something which is much bigger to deal with the reconstruction of the country – some kind of a Marshall Plan that we need now to implement for Haiti." While the primary focus remains on rescue and immediate relief efforts after the massive January 12 quake, international financial institutions say urgent measures are needed to help rebuild Haiti's shattered economy.
Officials fear as many as 200,000 people were killed in the quake that reduced most of the Haitian capital Port-au-Prince to rubble and impacted an estimated three million people, or one third of the country's population. "The urgency, today, is to save the people. The urgency, in some weeks, will be the reconstruction," Strauss-Kahn said. Last week, the IMF promised an interest-free loan of $100 million in initial emergency funds to the Haitian government. However, the loan has drawn criticism for adding to the country's debt burden.
"The most important thing is that the IMF is now working with all donors to try to delete all the Haitian debt, including our new loan," Strauss-Kahn said. The IMF and the World Bank classify Haiti among "heavily indebted poor countries" eligible for debt forgiveness. The Caribbean nation was granted $1.2bn in debt relief last June.
Economic recovery
Experts say cash flow needs to be urgently restored to begin recovery [Reuters] The IMF is also working with donors to get cash circulating again in Haiti's devastated economy so people can buy food and civil servants can get paid, a senior IMF official said on Wednesday. According to Nicolas Eyzaguirre, director of the IMF's western hemisphere department, banks will reopen shortly while some money transfer agencies are already functioning for remittances sent by Haitians living abroad.
Remittances for Haitian expatriates have been a major "We need to urgently help Haiti to get its economy functioning again," he said. Eyzaguirre said the cost to the Haitian economy wrought by the quake would probably exceed the $900m – or about 15 per cent of the country's GDP – caused by devastating hurricanes in 2008. However he said in the early days after the quake there was still a lot of uncertainty over the full impact.
Davos agenda
Disaster-hit Haiti will also be one of the top agenda items at this year's gathering of the World Economic Forum (WEF), Klaus Schwab, the group's chairman and founder, has said. The annual meeting, which will draw more than 2,000 government, business and religious leaders from around the world, is scheduled to begin on January 27, two weeks after the earthquake struck.
Schwab said a special panel on Haiti will be held on January 28, where a reconstruction initiative should be outlined. "We hope that we can present a major common effort to the world community showing true corporate global citizenship in Davos," Schwab said during a news conference in Geneva on Wednesday. Former US president Bill Clinton, who acts as a special envoy for Haiti, and Helen Clark, the former New Zealand prime minister and administrator of the United Nations Development Programme, will support the WEF's initiative.
TRUE CAUSE : GENERAL FAILURE TO SUPPORT THE ONLY
SUCCESSFUL SLAVE INSURRECTION IN KNOWN HISTORY
http://www.pbs.org/egaliteforall/
Toussaint Louverture and the Haitian Revolution
It was the only successful slave insurrection in history. It grasped the full meaning of French revolutionary ideas — liberté, eqalité, fraternité — and used them to create the world's first Black republic. It changed the trajectory of colonial economics…and led to America's acquisition of the Louisiana territory from France. "It" was the Haitian Revolution, a movement that's been called the true birth moment of universal human rights. Vaguely remembered today, the Haitian Revolution was a hurricane at the turn of the nineteenth century — traumatizing Southern planters and inspiring slaves and abolitionists, worldwide.
The man at the forefront of Haiti's epochal uprising was Toussaint Louverture. He was world-known in his day and deserves a place among history's most celebrated figures today. Born into slavery, Toussaint had been freed by his master before the revolt began. He owned property and was financially secure. He risked it all, however, to join then lead an army of slaves that would fight, in turn, the French, the British, and the Spanish empires for twelve years. He was often compared to George Washington. But his is military feats alarmed Thomas Jefferson… and ultimately provoked a full-scale attack from Napoleon Bonaparte. France's final offensive would cost Toussaint his life. But France lost, nonetheless, and the richest colony in the Americas became an independent black republic.
The story of Haiti's revolution is a story of extraordinary pathos. Half a million slaves dared hope for an unprecedented end to slavery and thousands died in the process. But the revolution's history is also a story of forgotten people and milestones. Haitian slaves did not just fight with weapons. In 1794 a multi-racial delegation from Haiti traveled to Paris to address the national assembly. They spoke powerfully about slavery's moral and physical violence. They argued that their struggle was part of France's domestic revolution against despotism. And they won the day. The elocution of Haitian Blacks led to a sudden decree that not only freed the empire's entire slave population, it made them French citizens, too.
the HAITIAN REVOLUTION of 1791-1803
http://www.webster.edu/~corbetre/haiti/history/revolution/revolution1.htm
http://www.webster.edu/~corbetre/haiti/history/revolution/revolution4.htm
as per U.S. LIBRARY Of CONGRESS
http://lcweb2.loc.gov/frd/cs/httoc.html#ht0013
The Slave Rebellion of 1791 / [data as of December 1989]
Violent conflicts between white colonists and black slaves were common in Saint-Domingue. Bands of runaway slaves, known as maroons (marrons), entrenched themselves in bastions in the colony's mountains and forests, from which they harried white-owned plantations both to secure provisions and weaponry and to avenge themselves against the inhabitants. As their numbers grew, these bands, sometimes consisting of thousands of people, began to carry out hit-and-run attacks throughout the colony. This guerrilla warfare, however, lacked centralized organization and leadership. The most famous maroon leader was François Macandal, whose six-year rebellion (1751-57) left an estimated 6,000 dead. Reportedly a boko, or voodoo sorcerer, Macandal drew from African traditions and religions to motivate his followers. The French burned him at the stake in Cap Français in 1758. Popular accounts of his execution that say the stake snapped during his execution have enhanced his legendary stature.
Many Haitians point to the maroons' attacks as the first manifestation of a revolt against French rule and the slaveholding system. The attacks certainly presaged the 1791 slave rebellion, which evolved into the Haitian Revolution. They also marked the beginning of a martial tradition for blacks, just as service in the colonial militia had done for the gens de couleur. The maroons, however, seemed incapable of staging a broad-based insurrection on their own. Although challenged and vexed by the maroons' actions, colonial authorities effectively repelled the attacks, especially with help from the gens de couleur, who were probably forced into cooperating.
The arrangement that enabled the whites and the landed gens de couleur to preserve the stability of the slaveholding system was unstable. In an economic sense, the system worked for both groups. The gens de couleur, however, had aspirations beyond the accumulation of goods. They desired equality with white colonists, and many of them desired power. The events set in motion in 1789 by the French Revolution shook up, and eventually shattered, the arrangement.
The National Assembly in Paris required the white Colonial Assembly to grant suffrage to the landed and tax-paying gens de couleur. (The white colonists had had a history of ignoring French efforts to improve the lot of the black and the mulatto populations.) The Assembly refused, leading to the first mulatto rebellion in Saint-Domingue. The rebellion, led by Vincent Ogé in 1790, failed when the white militia reinforced itself with a corps of black volunteers. (The white elite was constantly prepared to use racial tension between blacks and mulattoes to advantage.) Ogé's rebellion was a sign of broader unrest in Saint-Domingue.
A slave rebellion of 1791 finally toppled the colony. Launched in August of that year, the revolt represented the culmination of a protracted conspiracy among black leaders. According to accounts of the rebellion that have been told through the years, François-Dominique Toussaint Louverture helped plot the uprising, although this claim has never been substantiated. Among the rebellion's leaders were Boukman, a maroon and voodoo houngan (priest); Georges Biassou, who later made Toussaint his aide; Jean-François, who subsequently commanded forces, along with Biassou and Toussaint, under the Spanish flag; and Jeannot, the bloodthirstiest of them all. These leaders sealed their compact with a voodoo ceremony conducted by Boukman in the Bois Cayman (Alligator Woods) in early August 1791. On August 22, a little more than a week after the ceremony, the uprising of their black followers began.
The carnage that the slaves wreaked in northern settlements, such as Acul, Limbé, Flaville, and Le Normand, revealed the simmering fury of an oppressed people. The bands of slaves slaughtered every white person they encountered. As their standard, they carried a pike with the carcass of an impaled white baby. Accounts of the rebellion describe widespread torching of property, fields, factories, and anything else that belonged to, or served, slaveholders. The inferno is said to have burned almost continuously for months.
News of the slaves' uprising quickly reached Cap Français. Reprisals against nonwhites were swift and every bit as brutal as the atrocities committed by the slaves. Although outnumbered, the inhabitants of Le Cap (the local diminutive for Cap Français) were well-armed and prepared to defend themselves against the tens of thousands of blacks who descended upon the port city. Despite their voodoo-inspired heroism, the ex-slaves fell in large numbers to the colonists' firepower and were forced to withdraw. The rebellion left an estimated 10,000 blacks and 2,000 whites dead and more than 1,000 plantations sacked and razed.
Even though it failed, the slave rebellion at Cap Français set in motion events that culminated in the Haitian Revolution. Mulatto forces under the capable leadership of André Rigaud, Alexandre Pétion, and others clashed with white militiamen in the west and the south (where, once again, whites recruited black slaves to their cause). Sympathy with the Republican cause in France inspired the mulattoes. Sentiment in the National Assembly vacillated, but it finally favored the enfranchisement of gens de couleur and the enforcement of equal rights. Whites, who had had little respect for royal governance in the past, now rallied behind the Bourbons and rejected the radical egalitarian notions of the French revolutionaries. Commissioners from the French Republic, dispatched in 1792 to Saint-Domingue, pledged their limited support to the gens de couleur in the midst of an increasingly anarchic situation. In various regions of the colony, black slaves rebelled against white colonists, mulattoes battled white levies, and black royalists opposed both whites and mulattoes. Foreign interventionists found these unstable conditions irresistible; Spanish and British involvement in the unrest in Saint-Domingue opened yet another chapter in the revolution.
TRIGGERED by FRENCH REVOLT: 'THEY SAID EVERYONE!'
https://en.wikipedia.org/wiki/The_Black_Jacobinshttp://www.kreyol.com/history003.html
Federal Research Division Library of Congress
Edited by Richard A. Haggerty / Research Completed December 1989
Although Hispaniola never realized its economic potential under Spanish rule, it remained strategically important as the gateway to the Caribbean. The Caribbean region provided the opportunity for seafarers from Britain, France, and the Netherlands to impede Spanish shipping, to waylay galleons crammed with gold, and to establish a foothold in a hemisphere parceled by papal decree between the Roman Catholic kingdoms of Spain and Portugal. This competition was carried on throughout the Caribbean, but nowhere as intensely as on Hispaniola. Sir Francis Drake of England led one of the most famous forays against the port of Santo Domingo in 1586, just two years before he played a key role in the English navy's defeat of the Spanish Armada. Drake failed to secure the island, but his raid, along with the arrival of corsairs and freebooters in scattered settlements, was part of a pattern of encroachment that gradually diluted Spanish dominance.
French Settlement and Sovereignty
Reportedly expelled by the Spanish from Saint Christopher (Saint Kitts), the original French residents of Tortuga Island (Ile de la Tortue), off the northwest coast of Hispaniola, sustained themselves mostly through two means: curing the meat and tanning the hides of wild game, and pirating Spanish ships. The former activity lent these hardy souls the colorful designation of buccaneers, derived from the Arawak word for the smoking of meat. It took decades for the buccaneers and the more staid settlers that followed them to establish themselves on Tortuga. Skirmishes with Spanish and English forces were common. As the maintenance of the empire tried the wit, and drained the energies, of a declining Spain, however, foreign intervention became more forceful.
The freewheeling society of Tortuga that was often described in romantic literature had faded into legend by the end of the seventeenth century. The first permanent settlement on Tortuga was established in 1659 under the commission of King Louis XIV. French Huguenots had already begun to settle the north coast of Hispaniola by that time. The establishment in 1664 of the French West India Company for the purpose of directing the expected commerce between the colony and France underscored the seriousness of the enterprise. Settlers steadily encroached upon the northwest shoulder of the island, and they took advantage of the area's relative remoteness from the Spanish capital city of Santo Domingo. In 1670 they established their first major community, Cap François (later Cap Français, now Cap-Haïtien). During this period, the western part of the island was commonly referred to as Saint-Domingue, the name it bore officially after Spain relinquished sovereignty over the area to France in the Treaty of Ryswick in 1697.
Colonial Society: The Conflicts of Color and Class
By the mid-eighteenth century, a territory largely neglected under Spanish rule had become the richest and most coveted colony in the Western Hemisphere. By the eve of the French Revolution, Saint-Domingue produced about 60 percent of the world's coffee and about 40 percent of the sugar imported by France and Britain. Saint-Domingue played a pivotal role in the French economy, accounting for almost two-thirds of French commercial interests abroad and about 40 percent of foreign trade. The system that provided such largess to the mother country, such luxury to planters, and so many jobs in France had a fatal flaw, however. That flaw was slavery.
The origins of modern Haitian society lie within the slaveholding system. The mixture of races that eventually divided Haiti into a small, mainly mulatto elite and an impoverished black majority began with the slavemasters' concubinage of African women. Today Haiti's culture and its predominant religion (voodoo) stem from the fact that the majority of slaves in SaintDomingue were brought from Africa. (The slave population totalled at least 500,000, and perhaps as many as 700,000, by 1791.) Only a few of the slaves had been born and raised on the island. The slaveholding system in Saint-Domingue was particularly cruel and abusive, and few slaves (especially males) lived long enough to reproduce. The racially tinged conflicts that have marked Haitian history can be traced similarly to slavery.
While the masses of black slaves formed the foundation of colonial society, the upper strata evolved along lines of color and class. Most commentators have classified the population of the time into three groups: white colonists, or blancs; free blacks (usually mulattoes, or gens de couleur–people of color), or affranchis; and the slaves.
Conflict and resentment permeated the society of SaintDomingue . Beginning in 1758, the white landowners, or grands blancs, discriminated against the affranchis through legislation. Statutes forbade gens de couleur from taking up certain professions, marrying whites, wearing European clothing, carrying swords or firearms in public, or attending social functions where whites were present. The restrictions eventually became so detailed that they essentially defined a caste system. However, regulations did not restrict the affranchis' purchase of land, and some eventually accumulated substantial holdings. Others accumulated wealth through another activity permitted to affranchis by the grands blancs–in the words of historian C.L.R. James, "The privilege of lending money to white men." The mounting debt of the white planters to the gens de couleur provided further motivation for racial discrimination.
INDEPENDENCE
http://www.kreyol.com/history005.html
On January 1, 1804, Haiti proclaimed its independence. Through this action, it became the second independent state in the Western Hemisphere and the first free black republic in the world. Haiti's uniqueness attracted much attention and symbolized the aspirations of enslaved and exploited peoples around the globe. Nonetheless, Haitians made no overt effort to inspire, to support, or to aid slave rebellions similar to their own because they feared that the great powers would take renewed action against them. For the sake of national survival, nonintervention became a Haitian credo.
Dessalines, who had commanded the black and the mulatto forces during the final phase of the revolution, became the new country's leader; he ruled under the dictatorial 1801 constitution. The land he governed had been devastated by years of warfare. The agricultural base was all but destroyed, and the population was uneducated and largely unskilled. Commerce was virtually nonexistent. Contemplating this bleak situation, Dessalines determined, as Toussaint had done, that a firm hand was needed.
White residents felt the sting most sharply. While Toussaint, a former privileged slave of a tolerant white master, had felt a certain magnanimity toward whites, Dessalines, a former field slave, despised them with a maniacal intensity. He reportedly agreed wholeheartedly with his aide, Boisrond-Tonnerre, who stated, "For our declaration of independence, we should have the skin of a white man for parchment, his skull for an inkwell, his blood for ink, and a bayonet for a pen!" Accordingly, whites were slaughtered wholesale under the rule of Dessalines.
Although blacks were not massacred under Dessalines, they witnessed little improvement in the quality of their lives. To restore some measure of agricultural productivity, Dessalines reestablished the plantation system. Harsh measures bound laborers to their assigned work places, and penalties were imposed on runaways and on those who harbored them. Because Dessalines drew his only organizational experience from war, it was natural for him to use the military as a tool for governing the new nation. The rule of Dessalines set a pattern for direct involvement of the army in politics that continued unchallenged for more than 150 years.
In 1805 Dessalines crowned himself Emperor of Haiti. By this point, his autocratic rule had disenchanted important sectors of Haitian society, particularly mulattoes such as Pétion. The mulattoes resented Dessalines mostly for racial reasons, but the more educated and cultured gens de couleur also derided the emperor (and most of his aides and officers) for his ignorance and illiteracy. Efforts by Dessalines to bring mulatto families into the ruling group through marriage met with resistance. Pétion himself declined the offer of the hand of the emperor's daughter. Many mulattoes were appalled by the rampant corruption and licentiousness of the emperor's court. Dessalines's absorption of a considerable amount of land into the hands of the state through the exploitation of irregularities in titling procedures also aroused the ire of landowners.
The disaffection that sealed the emperor's fate arose within the ranks of the army, where Dessalines had lost support at all levels. The voracious appetites of his ruling clique apparently left little or nothing in the treasury for military salaries and provisions. Although reportedly aware of discontent among the ranks, Dessalines made no effort to redress these shortcomings. Instead, he relied on the same iron-fisted control with which he kept rural laborers in line. That his judgement in this matter had been in error became apparent on the road to Port-au-Prince as he rode with a column of troops on its way to crush a mulattoled rebellion. A group of people, probably hired by Pétion or Etienne-Elie Gérin (another mulatto officer), shot the emperor and hacked his body to pieces.
Under Dessalines the Haitian economy had made little progress despite the restoration of forced labor. Conflict between blacks and mulattoes ended the cooperation that the revolution had produced, and the brutality toward whites shocked foreign governments and isolated Haiti internationally. A lasting enmity against Haiti arose among Dominicans as a result of the emperor's unsuccessful invasion of Santo Domingo in 1805. Dessalines's failure to consolidate Haiti and to unite Haitians had ramifications in the years that followed, as the nation split into two rival enclaves.
TORTUGA of SONG
http://books.google.com/books?id=SJEg0p4RCP4C

COLONIZED by BUCANEERS
http://www.thepiratesrealm.com/Isle%20of%20Tortuga.html
These men were known for the meat that they barbecued (French for smoked meat is viande boucanee), and so eventually were named… Buccaneers. When these hunters learned that piracy was more profitable than selling meat, they were soon making regular raids on the Spanish ships sailing the local trade routes. An early French governor named Jean le Vasseur used his training as an engineer to build a 24-gun fort by the harbor which helped to repel Spanish attacks. French governors preferred to use the buccaneers for local defense, as the British governors were later to do at Port Royal, and Tortuga Island became well-known for those men calling themselves the Brethren of the Coast. The most notorious among the pirates of Tortuga was Francois L'Ollonais, a psychopath whose method of choice was often horrible tortures and murder. Sir Henry Morgan started his career of piracy from this very island.
FLYING WRONG FLAG LEGAL
http://www.blackpearltales.net/erins_site/History.html#top
Tortuga was initially founded by the French in 1625, who realized Hispaniola was awfully thick with Spaniards and so turned their attentions to the large island just northward. There the French and some English with them began setting up plantations and making themselves at home. However, the Spaniards and their new neighbors took periodic swats at each other and control of the island switched back and forth a few times. Most of the English on Tortuga decided to move elsewhere, but a few remained to form their own small colony. For a time the French and English on Tortuga both had their own colonies and governors, and managed an uneasy co-existance.
It was the French who first encouraged privateers to use Tortuga as their base, in large part as a deterent to Spanish incursions. By 1633 Tortuga is a haven for the wolves of the sea. Tortuga comes under attack by the Spanish several times over the years, the struggle for control bloody and fierce. By 1641 the English colonists on Tortuga were expelled by the French – but this did not curtail English pirates or privateers, who continued to ply their trade with their French and Dutch brethren, and Tortuga's uproarious career likewise continued. In 1653 the French governor was assassinated, whereupon the Spanish instantly pounced on his predecessor, and when the smoke cleared the English returned to hold the island from 1655-59. But once again the balance of power changed to French hands.
About 1665 the governor of Tortuga wished to somewhat civilize his piratical folk, and did his best to encourage proper colonization and trade of their hard-won goods. He met with dubious success, but the island continued to be the playground of the Brotherhood of the Coast. By 1670 a great many privateers sailed under commisions granted by the governor of Tortuga, not the least being the infamous Henry Morgan, who led his fleet to attack Santa Marta, Rio de la Hacha, Puerto Bello and Panama.
The death of the privateers came in the 1680's, when English laws made it a felony to sail under a foreign flag. Thereafter if any Englishman was found privateering under any flag other than his own – and after the 1684 Treaty of Ratisbone England no longer issued letters of marque – he would be hanged. In 1688 Henry Morgan died in Jamaica, and the glory days of the privateers was over.
FOLLOWED (PERHAPS INEVITABLY) by FREE ENTERPRISE ZONE
ADMINISTRATED by KNOWN RADIO PIRATE (INVITED)
http://en.wikipedia.org/wiki/Don_Pierson
Freeport Tortuga + Don Pierson
In 1967, during the time that Don Pierson was attempting to lease the ship which had been the former homes of [pirate stations] Swinging Radio England and Britain Radio, he received a response from the Ambassador for Haiti in Washington, DC. Don Pierson's original plan was to lease or sell the ship to the government of Haiti for it to establish two powerful 50 kW commercial radio stations aimed at American tourists visiting the old buccaneer stronghold of Tortuga island, which is located some 10 miles off the north coast of the main Haitian island of Hispaniola which is also shared by the Dominican Republic.
This offer became a plan to develop the island itself as a freeport and he was asked to assist the government of Haiti to encourage business investment in that poverty-stricken land. After years of research and negotiation, Don Pierson's idea of a privately financed, privately managed free enterprise zone became a reality in 1971 when Haitian dictator François Duvalier (known as "Papa Doc") and the Haitian government entered into a 99-year contract with Don Pierson's company called Dupont Caribbean Inc. This contract provided for the establishment of Freeport Tortuga.
Within 18 months Don Pierson succeeded in building the island's first airport, a loading dock for seagoing vessels, a rudimentary water and sewer system, an electricity generating facility, and six miles of paved road. Of equal importance. the project created jobs for some 400 previously unemployed Haitians and resulted in the establishment of a small school to teach various job skills. During this period he also became Honorary Consul of the Republic of Haiti to Texas from 1969 through 1974. Tragically, the free port project came to abrupt end in 1974 when, after it was announced that Gulf Oil Corporation was contemplating investing more than $300 million to build a resort on the island, the government of Jean-Claude Duvalier (known as "Baby Doc"), summarily expropriated the project, resulting in its collapse. A similar venture on the island of Dominica which was attempted in the wake of the failed project in Haiti, also met with disaster following governmental turmoil in Dominica.
PREVIOUSLY
HAITIANS EATING MUD
http://spectrevision.net/2008/04/21/haitians-eating-mud/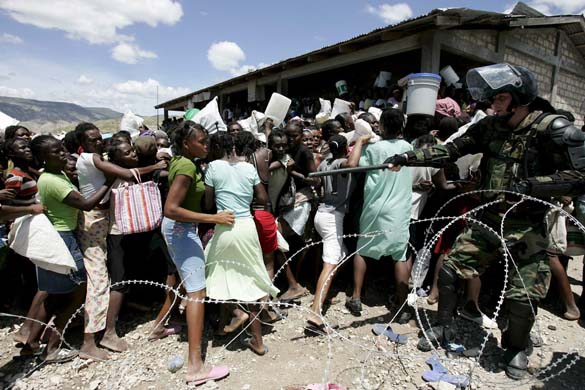 REPARATIONS (DEBT) to FRANCE for DAMAGES INCURRED by REVOLUTION
http://www.timesonline.co.uk/tol/news/world/us_and_americas/article6281614.ece
Haiti: the land where children eat mud
What is the West doing to rescue the 'nightmare republic'?
BY Alex von Tunzelmann / May 17, 2009
If you ever hear of Haiti, it is usually because of something frightening. It is famous for hurricanes, deforestation, poverty, drug smuggling, violence, dictatorships, voodoo and slavery. Half a century ago, when it was under the tyranny of François "Papa Doc" Duvalier and his "zombie" militia, Graham Greene called Haiti the "nightmare republic". Though Papa Doc has long gone, the nightmares have never ended in this Caribbean dystopia. Haiti is the poorest country and only Third World nation in the western hemisphere, and it's getting worse.
Two centuries ago, the political economist Robert Malthus postulated that a society in which the population grew too fast could reach a point where people simply could not be fed, leading to a total collapse. Over the past five years, Haiti has not only met but exceeded the conditions for a Malthusian catastrophe. The only things keeping the country from absolute disaster are imported food and charity. With a global economic crisis afoot, the question is how long that can be sustained. I had plenty of reservations about going to Haiti. It is a place born out of the darkest days of slavery: a country where white people have always been regarded, with some reason, as the enemy, and where, in some areas, half of all women and girls have been the victims of rape.
I am a historian, not a foreign correspondent or aid worker, but I wanted to see for myself what life was like in this haunted nation. Notables including Ban Ki-moon, Bill Clinton and Hillary Clinton have visited Haiti in the past couple of months, highlighting the fact that the country is poised on the brink of what could be a humanitarian crisis of terrifying proportions.
In the 1960s, Papa Doc decorated the "Welcome to Haiti" sign at Port-au-Prince's airport with the dismembered corpses of his enemies. At least they've taken those down. Instead there's a calypso band playing for tips, and a swarm of hustling taxi drivers. Immediately I hear the epithet by which I will be known for the next week: la blanche, the white woman.
At the hotel in the relatively affluent suburb of Pétionville, there is a long list of rules. Don't go out alone. Don't walk more than two kilometres in any direction. Don't go out after dark at all. If you hear gunshots, stay inside. Smile at the man toting an assault rifle who stands at the hotel entrance. He's here for your protection.
Just why is Haiti in such a dire situation, so much worse than any other country in the Americas, and as bad as anywhere on Earth? Some blame the United Nations. Some blame the Americans. Some have theories about the collision of global warming with global capitalism. All are careful to point out that the Haitian elite deserves its reputation for being greedy, negligent and kleptocratic. "I think the Haitian people have been made to suffer by God," Wilbert, a teacher, tells me, "but the time will come soon when we will be rewarded with Heaven."
History tells a different story. The appalling state of the country is a direct result of having offended a quite different celestial authority — the French. France gained the western third of the island of Hispaniola — the territory that is now Haiti — in 1697. It planted sugar and coffee, supported by an unprecedented increase in the importation of African slaves. Economically, the result was a success, but life as a slave was intolerable. Living conditions were squalid, disease was rife, and beatings and abuses were universal. The slaves' life expectancy was 21 years. After a dramatic slave uprising that shook the western world, and 12 years of war, Haiti finally defeated Napoleon's forces in 1804 and declared independence. But France demanded reparations: 150m francs, in gold.
For Haiti, this debt did not signify the beginning of freedom, but the end of hope. Even after it was reduced to 60m francs in the 1830s, it was still far more than the war-ravaged country could afford. Haiti was the only country in which the ex-slaves themselves were expected to pay a foreign government for their liberty. By 1900, it was spending 80% of its national budget on repayments. In order to manage the original reparations, further loans were taken out — mostly from the United States, Germany and France. Instead of developing its potential, this deformed state produced a parade of nefarious leaders, most of whom gave up the insurmountable task of trying to fix the country and looted it instead. In 1947, Haiti finally paid off the original reparations, plus interest. Doing so left it destitute, corrupt, disastrously lacking in investment and politically volatile. Haiti was trapped in a downward spiral, from which it is still impossible to escape. It remains hopelessly in debt to this day.
Like all cities, Port-au-Prince has better and worse neighbourhoods. Unlike all cities, several of its worst neighbourhoods are declared conflict zones. Some slums are so dangerous that even the United Nations peacekeeping troops, who carry machineguns, do not venture in. The UN is not popular here. Peacekeepers are rumoured to have massacred unarmed slum-dwellers on several occasions. "A lot of people say the UN soldiers trade guns and drugs," a Haitian student tells me while we walk around Champs de Mars, the park by the National Palace, a line of soldiers just in front of us. Many Haitians palpably mistrust foreigners. Pedestrians and peanut-sellers keep their eyes on me but stay back, as if I were a predator.
Just 10 minutes' drive from the National Palace, past a cemetery filled with elaborate pastel-coloured tombs, is Carrefour Feuilles. A perilous stack of breeze blocks, filth and human misery teetering on the hills overlooking the bay, it is considered to be among the most dangerous and deprived of the city's slums. The streets are too narrow and rutted to drive. I walk up steep paths in between shacks of mud and rusting corrugated iron. At every turn, the route is obstructed by heaps of discarded packaging, decomposing rubbish and human waste, over which goats and children crawl, foraging for food. In the blazing midday sun, the stench is hard to endure.
This is a place where you come face to face with Haiti's industrial collapse. Unemployment, which hovers around 75% nationally, is higher here. Most people are illiterate, unskilled and unhealthy. The only vaguely legal option open to the majority of residents is to buy a few items of cheap produce, and sell them at a tiny profit in the markets. Unfortunately, the city's recent effort to clean up the streets in the centre has meant that many of these traders have been kicked out. The remaining jobs open to them make an unappealing list: selling drugs, selling weapons, robbery, blackmail, prostitution and kidnapping. It is the kidnappings that make headlines.
For the gangs, in a country that produces virtually nothing, terror is one of the few reliable sources of income. Gang members ambush an ordinary person, usually someone unlikely to resist, such as a woman or a child. They saw off one of the victim's fingers or an ear, and take it to the family, along with a demand for money. Even if the ransom is paid, the victim often ends up dead. At one point, kidnappings were reported five times a day. There was another peak in the first few months of 2008, but some arrests of gang leaders were made over the summer, and now the official statistics have stabilised at something closer to one incident every couple of days.
Foreigners have been targeted, which is why nobody will let me walk around on my own, but the greatest danger is to ordinary Haitians. Even slum-dwellers are often abducted and tortured by the gangs, sometimes for a ransom as little as the price of a cocktail in London.
"Parents in Carrefour Feuilles are happy when their son joins a gang," one Haitian woman, who runs an anti-violence project, tells me. "They are also happy when their daughters become child prostitutes. It means the family can afford to eat." Posters advocating sexual abstinence can be seen on every street. So far, they do not appear to be having much impact: population growth is rising. Haiti was considered unsustainably overcrowded in the 1950s, when the population was 3m. Now it is 9m. Survival is a daily effort, and these starving slum-dwellers will seize on any opportunity to earn money, however unpleasant.
The new idea from the UN and the US is Hope II, a programme that would give Haitian companies duty-free access to the American market for nine years. The focus is on agriculture and garment factories. A similar scheme has been running since 2006, and the results look good on paper: 3,000 jobs are said to have been created. On the street, though, the word is not good. Pay is subsistence level at best, and does not keep pace with food prices. Conditions are dangerous and unsanitary. Workers are charged for going to the toilet. Abuse is widespread.
There are people who argue that rich countries, too, once went through a stage of sweatshop labour, and that this is some sort of necessary purgatory on the road to improvement. It is an easy argument to make from a comfortable armchair in the home counties, but it is ahistorical. Haiti's path of development has been completely different from those of the rich countries. The reason it has not become sustainable is that, for two centuries, rich countries and their banks have menaced almost all of its wealth out of it. For how much longer should the Haitians do penance?
The country's problems were only exacerbated when, in 1957, François Duvalier became president. Exploiting Haitian beliefs in the traditions of voodoo (most Haitians still practise it today), he established a personal militia, the Tonton Macoutes, rumoured to be zombies he had raised from the dead, who soon gained a chilling reputation for rape and torture.
Papa Doc himself affected the style of Baron Samedi, the spirit of the dead, appearing in a black top hat and pinstriped suit. Reports from Haiti brought forth disgust from the developed world, but the protests did not turn into action. Instead of moving to condemn and remove these dictators, the world's richest countries opened their chequebooks. In 1967, American-owned plantations in the Dominican Republic paid Papa Doc directly for rounding up 20,000 Haitians to work on their lands. In 1972, his son and heir, Baby Doc's minister of the interior, was exposed for literally selling Haitian blood to private American hospitals: $3 a litre, no questions asked. During the Duvaliers' combined 28 years in power, up to 60,000 Haitians were "disappeared" by the regime. The Duvaliers swindled international creditors and aid agencies for enormous sums. The American government, via various agencies and banks, lent millions to both dictators.
Though there was anger in Washington about the Duvaliers and their 80% rate of aid embezzlement, no action was taken to remove them until 1986. The Duvaliers were always happy to sign up to new loans, and to give lucrative contracts to American corporations. Most of the projects went nowhere. Haiti is littered with half-built and abandoned schools, hospitals, bridges and roads.
Most of the money lent to the Duvaliers found its way into private bank accounts. When Baby Doc fled, he took millions with him: estimates go as high as $900m. The debts incurred by the Duvaliers make up 45% of Haiti's total current debt. None of the creditors finds the fact of their complicity a compelling argument for cancellation. Those creditors include the Inter-American Development Bank, the World Bank, the IMF and the governments of the US and France.
Debt relief is at the discretion of the Heavily Indebted Poor Countries Initiative, run by the World Bank and the IMF. Haiti must meet certain conditions, including poverty reduction and inflation controls, before any debt can be written off. By international standards, the sums are small, but for Haiti they are enormous. The World Bank alone demands an estimated $1.6m a month.
On April 14, in a speech at a conference on Haiti's social and economic development, Robert B Zoellick, president of the World Bank Group, announced: "We are working closely with the authorities and the IMF to help expedite debt cancellation while ensuring that monies released go directly to support poverty reduction." At the spring meeting of the World Bank and the IMF less than two weeks later, Haiti was judged again as having failed to show sufficient progress towards macroeconomic stability to qualify for debt cancellation. In a surprise move, however, the US government stepped in to cover Haiti's debt service payments for the rest of this year.
Undoubtedly, the American gift is a boon, and Barack Obama and Hillary Clinton do seem to be making a genuine effort to help. Obama's tax return for this year revealed a personal donation of $2,000 to a Christian organisation working in Haiti. Clinton has also announced that she will re-examine US policy on Haitian migrants. At the moment, unlike the Cuban refugees who are given asylum, Haitians are considered economic migrants, and are imprisoned and deported.
Haiti's record on political freedom is far from spotless, though it is in theory now a democracy. The most popular party among the impoverished majority, Fanmi Lavalas, was banned from contesting elections this month on the grounds that its leader, Jean-Bertrand Aristide, did not meet a very short deadline unexpectedly imposed for signing the hard copy of his party's lists. He could not have done so: he is in exile in South Africa, having been ousted in a highly controversial UN intervention in 2004. There is some hope Clinton will award temporary work permits to Haitian illegals in the US. "But, at the same time," she added in her announcement, "we don't want to encourage other Haitians to make the dangerous journey across the water." Both George W Bush in 2004 and Bill Clinton in 1994 justified military intervention in Haiti, partially on the basis that unmanageable numbers of "boat people" were turning up on their shores. "There is only one solution to Haiti's problems, and that's mass emigration," one senior American foreign-policy expert told me. "But nobody wants to talk about it." So Haiti remains in debt, relieved for now, but not for ever. And the question of France repaying some or all of the compensation it extracted for Haitian independence is not even on the agenda.
The Artibonite valley is the rural heart of Haiti. The potholed road out of the capital runs north through miles of bleak marshland. We drive past Titayen, a dumping-ground for the bodies of people murdered by political groups or criminal gangs. The hot air is oppressive with the weight of storm clouds. Near the town of Cabaret is a tent-city full of refugees. On both sides of the road, houses are stoved in, with walls and roofs ripped off, and whole floors of concrete folded in on themselves like origami. This is the parting gift left by Fay, Gustav, Hanna and Ike, four storms that devastated Haiti in three weeks last summer. All around the valley rise high mountains. Fifty years ago, these were covered in dense tropical jungle. Now, there is nothing but brownish scrub. Eighty per cent of Haitians live below the poverty line, and cook on charcoal from scavenged wood. As the population has shot up, the forests have been cut down. Haiti is now 98% deforested. The roots of those trees held the land together. Now, every time a hurricane hits Haiti, the rains and floods sweep topsoil and soft clay from these hills down to the valleys and the coast. Arable land is stripped back to barren rubble, while whole towns such as Gonaives — until last August a city of 250,000 people — are buried under sludge.
At a nearby village, Robuste, dozens of excited children ambush me. Not many strangers come here, and they are intrigued. Even in the middle of horrific poverty, the people have not lost their sense of humour. I raise my camera to take a picture, and an old woman immediately begins weeping and howling. Shocked, I lower the camera, and she points at me and roars with laughter. It was a joke, and a clever one: she was satirising the usual news-agency photos. But most of the devastation here is all too real. In the hurricanes, half the houses in Robuste were washed away.
The village pastor takes me into his church, a comfortless hall in which over 200 refugees have been sleeping rough. One woman lies here, suffering from unidentified sickness in the aftermath of the floods. There is no doctor. Her year-old baby is left unattended on the concrete floor. He crawls up to me, wide-eyed. Slavery did not end with the revolution. A grim fate awaits many of the children in Robuste. When destitute Haitian families cannot feed their children, they send them to the towns. There are 300,000 such children in Haiti, around 10% of the entire child population. They are known as restaveks — a Creole word from the French rester avec, to stay with. Host families provide restaveks with food, clothing, shelter and in some cases education, in return for having the child work as a servant. Often these children are beaten, sexually abused, starved, denied medical treatment. In a couple of years the baby in front of me could be given up to this modern form of slavery. Restaveks as young as three have been found in Port-au-Prince. His mother rolls over in her sleep. She looks desperately ill. Soon, nobody in this village will have enough to eat. At that point the sending away of their children will begin.
Even before the hurricanes hit, Haiti was in the grip of a food crisis. A year ago, when the price of rice soared across the world, Haitians began to starve. There were confirmed reports of people being reduced to eating dirt. Cookies made of mud mixed with vegetable oil were all they could scrape together. In the slums of Port-au-Prince, Oxfam is funding community restaurants in an attempt to provide something more nutritious. People bring tin pots and pay 10 gourdes (16p) to have them filled with rice, beans and vegetables. It is thought that charging a small sum preserves people's dignity, and avoids giving them the impression that they can rely on hand-outs. The restaurant is at a busy intersection, surrounded by a huge mass of people, mostly young men, shouting, banging their tin pots and jostling to get to the front. Food riots are common.
A little boy of about eight wanders up to us. He looks even thinner and more nervous than the other children, and is barefoot, dressed in a worn-out black string vest and threadbare shorts. Ian, Oxfam's British press officer, is good with children. He leans down, smiles and shakes the boy's hand. The boy wanders back to join the people waiting for food. He goes to a woman in her late thirties. "Get away from me!" she screams at him, smacking him across the face. "You shook hands with the blanc! Koko rat!" The crowd gasps. The name she has called him is one of the strongest insults in Creole, literally a crude expression for the genitals of a female rat, but the implication is worse. The woman means that the little boy is a traitor. Ian is aghast, but of course it's not his fault. The little boy runs off. Moments later, he appears beside me again. He looks lost, and wears an expression of unbearable sadness. He had a tin bowl before, but it has gone. "Where's his bowl?" I ask my Creole translator. She asks him. "Someone took it from him." "We've got to find him another one," I say. "He hasn't had any food yet." "There aren't any around," she replies.
It's true. Nobody has a spare, and everyone here needs to eat. Just down the street, market stalls display mouldy vegetables and half-rotten meat crawling with flies. Even rotting food is too expensive for most slum-dwellers. By now the crowd is getting seriously aggressive. Men are shoving each other, and punches are thrown. The organiser hurries back to us. "We have to leave. Now." At another roadside stall I see a painting of a pregnant Haitian woman crying tears of blood, while demonic white babies with sharpened teeth scramble to suckle from her breasts.
Graham Greene's "nightmare republic" has become a literal fact. The next morning I board a bus to make the long journey through the mountains to Santo Domingo, the capital of the neighbouring Dominican Republic. Driving through Haiti, there are almost no trees to be seen. The roads are lined with scrub, thorns and piles of refuse. At the exact point of the border line, the world surges back into life. Suddenly the road is thick with towering mature trees, their branches heavy with lush green leaves, fat blossoms, singing birds. It is beautiful but heartbreaking, a reminder, if any were necessary, that things need not be as they are.
The facts
– last year's hurricanes devastated more than 70% of Haiti's agricultural land
– more than 80% of the population lives on less than £2 a day
– some 3.8% of the population is HIV-positive, according to Save the Children; among them 17,000 minors. Medical provisions are scarce. There is one doctor for every 3,000 patients.
– life expectancy at birth is 61 years. The survival rate of newborns is the lowest in the western hemisphere. One-third are born underweight.
– there are 80 deaths per 1,000 live births. The mortality rate for children under five is 120 in 1,000
DIDN'T PRACTICE VOODOO CORRECTLY, DESPITE WARNINGS
http://www.rnw.nl/english/article/benin-voodoo-calm-evil-spirits-haiti
Benin voodoo to calm evil spirits in Haiti
BY Razzack Saïzonou / 15 January 2010
"We are deeply affected and feel solidarity with our Haitian brothers," said an emotional Queen Djehami following Tuesday's earthquake in Haiti. Djehami is the wife of Kpodégbé Toyi Djigla, King of Allada, a town in central Benin and one of the largest kingdoms of the country. "We are deeply affected, primarily because I am African, but mainly because I am from Allada. There is a sense of desolation at the palace."
During the 16th and 17th centuries, Benin played a key role in the slave trade. Thousands of men and women were uprooted and sold as slaves to work in plantations in Europe, the Caribbean and America. Many of them came from Allada, as did the family of Toussaint L'ouverture, who later founded the Republic of Haiti.
Toussaint L'ouverture (1743-1803), nicknamed the Black Napoleon, was born on a plantation in the French colony of Saint Domingue. He was named Breda after the plantation as was the custom for slaves. His master, the relatively humane Mr Baillon de Libertat, encouraged Toussaint to learn to read and write, and appointed him as his coachman and then as his foreman. Later Toussaint led a revolution against slavery and Haiti became the first republic to be ruled by leaders with African ancestry.
Apart from the historical ties between Haiti and Benin, the two countries share the religion of their ancestors: voodoo. This religion is central to the worship and traditions of thousands of Haitians and Beninese. Queen Djehami believes that this week's earthquake has happened because Haiti's ancestors failed to carry out sacrifices. She explains that during his trip to Haiti six years ago, King Kpodégbé had warned the then President of Haiti of the need to organise sacrifices to appease angry spirits and ward off evil ones. His trip was part of bicentenary celebrations marking the death of Toussaint L'ouverture.
Although the Haitian authorities probably didn't ignore the king's warning, they did put off organising the rituals. "Haiti is profoundly African and these things should not be underestimated," exclaims Queen Djehami. "His Majesty the King asked for a number of things to be done when we were there, but his wishes were not met. Was it negligence, was it that nobody believed in it?"
In an outburst of solidarity with the victims of the earthquake, the people of Benin and particularly those of Allada have organised traditional ceremonies to appease the spirits and seek the blessing of their ancestors for the Haitians." A purification ceremony is planned for Haiti and a trip to the devastated island is even possible. We will continue to pray that it never happens again," says the Queen of Allada.
"HAITIANS are CURSED" [OP-ED]
"TRUE STORY" :PAT ROBERTSON SPEAKS for HIMSELF
http://www.google.com/search?ie=UTF-8&q=pat+roberston+call+800
"call Pat @ (800) 759-0700 to give your opinion of statements on Haiti, or put them on hold + just play music, it costs them money to wait for you"
HOLD MUSIC
COGNITIVE DISSONANCE
(or WHY I AM CALLING YOU A RACIST)
http://www.facebook.com/note.php?note_id=256628482369&comments
Why it's wrong to label Pat Robertson as a crackpot.
Posted Yesterday [1/14] at 4:12pm
"Pat Robertson has been called crazy, loony, and a crackpot based upon his comments regarding a 200 year old curse placed upon Haiti. This would be an inappropriate label. The story is based upon a myth created to justify a belief in White Supremacy, and has been maintained and repeated by Southern Christians to this day. Robertson was speaking in a code not understood by Northerners and Westerners, so it appears to fall to me to explain the origins off the myth, and the reasons it has survived in the South to this day, and continues to influence our foreign and domestic policy.
The myth is rooted in beliefs regarding the "Mark of Cain" [http://en.wikipedia.org/wiki/Curse_and_mark_of_Cain] which are widely held in the South. Most theologians believe the "Mark" referred to a curse to a nomadic lifestyle, and an inability to grow crops. The belief was used to justify the extermination of Native Americans, because they weren't using the land profitably, while systematically burning their crops, and stealing their orchards. As long as taking lands could be justified through "making the land fertile" it was theologically justified. The irony of course is that world cuisines would be very different today without basic Native American crops such as potatoes, tomatoes, chili peppers, corn, blueberries, strawberries, and so on. But, that is another history for another day.
The "Mark of Cain" was made into skin color by Southern theologians, seeking to justify slavery. Therefore, to the degree that one's skin was dark, it designated that person as less than human, and able to be exploited as any other animal with the approval of the Southerner's God. I must add here, that is was not only the approval, but the destiny supported and guaranteed by the Southern God. When you hear a Southerner say, "Everything happens for a reason," it means that everything that happens to a person, or a people, because it is their God's will.
When Haiti achieved independence in 1804, the foundation of that set of beliefs was shaken. The only way to reconcile the belief of White Superiority with a Black Nation achieving independence was the intervention of the Devil. Therefore, a myth was created that said that the Haitians had made a deal with the Devil, and bore a new "Mark," similar to that of Cain. The fact that Toussaint L'ouverture was an educated man, who fought to retain his freedom becomes obscured by the myth. This belief has influenced our dealings with Haiti, from Thomas Jefferson to the present day. Jefferson's struggles with how to deal with Haiti have already been published, and I will not go through the history of our foreign policy with respect to Haiti with this entry.
This is not a fringe belief. In 1994, ONE HUNDRED AND NINTEY years after Haiti achieved independence, President Bill Clinton sent peacekeeping troops to Haiti under pressure from the Congressional Black Caucus when a military dictatorship supported by US business interests overthrew the popularly elected Aristede. Before the troops were sent to Haiti, they were briefed by a local expert chosen by the CIA, who said: "The briefing was only partly inexplicable to me. Many of the mindless prejudices of the briefing would resurface later as official documents, from Intelligence, Psychological Operations, and Civil Affairs. It was part of the attempt to minimize American contact with Haitian realities. It is going on to this day, and it is effective. Now, the bullshit is being disseminated by the United States Embassy. The press laps it up and regurgitates it for us uncritically, awed as always to be allowed so near the powerful."
Robertson's beliefs are neither crackpot, outside of the norm for many people in positions of power. They also inform the myth-building in Southern States on how to deal with the election of President Barack Obama. The mad scramble for a label from Anti-Christ to NAZI is a reflection of irreconcilable cognitive dissonance between Southern belief systems and reality. Within a day of Robertson's remarks, a G.O.P. Spokesman stated that all ANYONE needed to do, INCLUDING THE UNITED NATIONS, was to heal the injuries, bury the dead, and GET OUT. This is belief and praxis, naked. Robertson is a GOP operative, and has advised presidents in the past, including Bush, and his bombing of Mayan villages coincided with Reagan's support of the atrocities committed by the Contras, and by the systematic overthrow of democratically-elected governments in the Caribbean, Central, and South America and subsequent atrocities in this hemisphere.
To fail to recognize the importance of the system of beliefs in the behavior of Southerners, the praxis of those beliefs, and the way in which those beliefs are transmitted is to fail to recognize the danger of the situation. His belief in the Curse of Haiti, is supported by a belief system that cannot reconcile the United States having elected a Black President. The disbelief that Barack Obama is President along with the signs displayed at the various protests in the South, among significant portions of the South are indicative of the cognitive dissonance among that population. The situation parallels the cognitive dissonance caused by the independence of Haiti. It is a dangerous time for Pat Robertson, and that means it's a dangerous time for all of us.
WHICH GODS HATE HAITI? an ECUMENICAL PRIMER
http://www.albertmohler.com/2010/01/14/does-god-hate-haiti/
Does My God Hate Haiti?
BY Albert Mohler / January 14, 2010
The images streaming in from Haiti look like scenes from Dante's Inferno. The scale of the calamity is unprecedented. In many ways, Haiti has almost ceased to exist. The earthquake that will forever change that nation came as subterranean plates shifted about six miles under the surface of the earth, along a fault line that had threatened trouble for centuries. But no one saw a quake of this magnitude coming. The 7.0 quake came like a nightmare, with the city of Port-au-Prince crumbling, entire villages collapsing, bodies flying in the air and crushed under mountains of debris. Orphanages, churches, markets, homes, and government buildings all collapsed. Civil government has virtually ceased to function. Without power, communication has been cut off and rescue efforts are seriously hampered. Bodies are piling up, hope is running out, and help, though on the way, will not arrive in time for many victims.
Even as boots are finally hitting the ground and relief efforts are reaching the island, estimates of the death toll range as high as 500,000. Given the mountainous terrain and densely populated villages that had been hanging along the fault line, entire villages may have disappeared. The Western Hemisphere's most impoverished nation has experienced a catastrophe that appears almost apocalyptic. In truth, it is hard not to describe the earthquake as a disaster of biblical proportions. It certainly looks as if the wrath of God has fallen upon the Caribbean nation. Add to this the fact that Haiti is well known for its history of religious syncretism — mixing elements of various faiths, including occult practices. The nation is known for voodoo, sorcery, and a Catholic tradition that has been greatly influenced by the occult.
Haiti's history is a catalog of political disasters, one after the other. In one account of the nation's fight for independence from the French in the late 18th century, representatives of the nation are said to have made a pact with the Devil to throw off the French. According to this account, the Haitians considered the French as Catholics and wanted to side with whomever would oppose the French. Thus, some would use that tradition to explain all that has marked the tragedy of Haitian history — including now the earthquake of January 12, 2010.
Does God hate Haiti? That is the conclusion reached by many, who point to the earthquake as a sign of God's direct and observable judgment. God does judge the nations — all of them — and God will judge the nations. His judgment is perfect and his justice is sure. He rules over all the nations and his sovereign will is demonstrated in the rising and falling of nations and empires and peoples. Every molecule of matter obeys his command, and the earthquakes reveal his reign — as do the tides of relief and assistance flowing into Haiti right now.
A faithful Christian cannot accept the claim that God is a bystander in world events. The Bible clearly claims the sovereign rule of God over all his creation, all of the time. We have no right to claim that God was surprised by the earthquake in Haiti, or to allow that God could not have prevented it from happening. God's rule over creation involves both direct and indirect acts, but his rule is constant. The universe, even after the consequences of the Fall, still demonstrates the character of God in all its dimensions, objects, and occurrences. And yet, we have no right to claim that we know why a disaster like the earthquake in Haiti happened at just that place and at just that moment.
The arrogance of human presumption is a real and present danger. We can trace the effects of a drunk driver to a car accident, but we cannot trace the effects of voodoo to an earthquake — at least not so directly. Will God judge Haiti for its spiritual darkness? Of course. Is the judgment of God something we can claim to understand in this sense — in the present? No, we are not given that knowledge. Jesus himself warned his disciples against this kind of presumption.
Why did no earthquake shake Nazi Germany? Why did no tsunami swallow up the killing fields of Cambodia? Why did Hurricane Katrina destroy far more evangelical churches than casinos? Why do so many murderous dictators live to old age while many missionaries die young? Does God hate Haiti? God hates sin, and will punish both individual sinners and nations. But that means that every individual and every nation will be found guilty when measured by the standard of God's perfect righteousness. God does hate sin, but if God merely hated Haiti, there would be no missionaries there; there would be no aid streaming to the nation; there would be no rescue efforts — there would be no hope.
The earthquake in Haiti, like every other earthly disaster, reminds us that creation groans under the weight of sin and the judgment of God. This is true for every cell in our bodies, even as it is for the crust of the earth at every point on the globe. The entire cosmos awaits the revelation of the glory of the coming Lord. Creation cries out for the hope of the New Creation. In other words, the earthquake reminds us that the Gospel of Jesus Christ is the only real message of hope. The cross of Christ declares that Jesus loves Haiti — and the Haitian people are the objects of his love. Christ would have us show the Haitian nation his love, and share his Gospel. In the midst of this unspeakable tragedy, Christ would have us rush to aid the suffering people of Haiti, and rush to tell the Haitian people of his love, his cross, and salvation in his name alone.
Everything about the tragedy in Haiti points to our need for redemption. This tragedy may lead to a new openness to the Gospel among the Haitian people. That will be to the glory of God. In the meantime, Christ's people must do everything we can to alleviate the suffering, bind up the wounded, and comfort the grieving. If Christ's people are called to do this, how can we say that God hates Haiti? If you have any doubts about this, take your Bible and turn to John 3:16. For God so loved the world, that he gave his only Son, that whoever believes in him should not perish but have eternal life. That is God's message to Haiti.
[ "I am always glad to hear from readers and listeners. Write me at mail@albertmohler.com." ]
"See also these two articles from the Katrina disaster:"
http://www.albertmohler.com/2005/09/07/god-in-the-storm-part-one/
http://www.albertmohler.com/2005/09/08/god-in-the-storm-part-two/
DON'T MEDDLE [DISSENT]
http://www.huffingtonpost.com/2010/01/14/gop-candidate-chuck-devor_n_423460.html
GOP DeVore's Spokesman: World Community Should Leave Haiti ASAP / 01-14-10
"Earlier today, I wrote about the push by several major foreign policy voices to ensure that America's role in restructuring Haiti extends beyond emergency response to the earthquake. The politics seem logical — the impoverished country has endured plenty of socioeconomic chaos in addition to natural disasters in recent history. And now, more than ever, there is a moral and geopolitical imperative for the U.S. to be involved. But rallying domestic support for a long-term U.S. commitment to Haitian affairs has long proved difficult. And here is another example why:
The communications director for California Republican Senate candidate Chuck DeVore tweeted on Thursday that America, the world and even charity organizations should immediately leave the island once immediate and limited recovery is done. "[T]he best thing the int'l community can do is tend the wounded, bury the dead, and then LEAVE. That includes all UN and charity," wrote Josh Trevino. This seems a bit blunt, even for the most non-interventionist of Republican candidates (DeVore is a Tea Party favorite). But it also is a reflection of Americans' widespread skepticism about the prospects of building a functioning and stable Haitian society. I asked former National Security Adviser Tony Lake about the problem in sustaining U.S. interest in Haiti during an interview on Wednesday. He didn't have any specific explanation, but acknowledged that it was problematic. "There are political voices in the United States that have spoken up for the Haitians, including the black caucus," Lake said. "But generally the political weight of the Haitian community in the United States has been less than the community deserves. And I think that has been a problem in maintaining a consistent American interest.""
MEDDLE [CASE STUDY; under BEST PRACTICES]
http://www.ibiblio.org/prism/May96/haiti.html
Soldier's testimony: US intervention salvaged the thugs
BY Marshall Valentine (alias)
In September of 1994, when US forces entered the Republic of Haiti, I was the detachment operations NCO for a Special Forces A Team. My team was given the mission of controlling almost a thousand square kilometers in the Northeast Department of Haiti. We were to base ourselves out of Fort Liberte, a political center near the northern Dominican border.
In August of '94, just one month before the decision was announced to occupy Haiti, we were instructed to attend an intelligence briefing on Haiti that had been coordinated through the 3rd Special Forces Group staff.
Prelude to the dance
This briefing would be the one and only predeployment intelligence briefing we were to receive. For this presentation, the staff had conscientiously avoided using any of the former Haitian nationals that worked and lived in Fayetteville and Fort Bragg. These included a professor of physics at Fayetteville State University, his wife, a Creole instructor at the Special Forces school, and various Haitian-American soldiers on active duty in Fort Bragg.
To ensure that we had a reliable source for this one and only predeployment brief, our intelligence gurus selected an expatriate, white, American, fundamentalist Protestant preacher. This gentleman had occupied himself for the last 11 years, in a small community outside of Cap Haïtien, salvaging the heathen souls of some 300 local congregants. He was an emaciated, blepharitic man, tall and thin, in a black suit, reeking of Calvinist austerity and burning with years of besieged righteousness.
He began his account with a personal introduction and a brief history of his mission. Then came a brief historical account of the nation of Haiti. The account was perfectly informative as long as it confined itself to events, personalities and dates. What followed his synopsis, however, was a bizarre narrative. He flatly declared that the successful Haitian revolution against the French Army was inaugurated with a bargain. Jean Jacques Dessalines, the Haitian leader of the revolution, according to this preacher, had struck a deal with the devil. With complete seriousness, our intrepid young missionary, explained that Satan himself, disguised as a voodoo deity, contracted with Dessalines to assure him a military victory. In exchange for the victory, Satan was to be given control of the new nation for a period of 200 years.
I'm not sure what surprised me the most at that briefing. The outlandish characterization of the first independent black nation in the Western Hemisphere? The fact that an Intelligence Officer on the Group staff had coordinated for his presence? Or the spellbound attention being paid this crackpot by hundreds of allegedly rational grown men who were in the room listening?
The problem was this. Most of the Special Forces soldiers there had no previous interest in Haiti. Most of them harbored cultural and racial preconceptions of Haiti. All had been exposed to the drumbeat of skewed media coverage of Haiti. Many were fans of both the CIA and Jesse Helms, both of whom were staging a concerted venture to shape foreign policy on behalf of the Cedras regime, by fabricating rumors about Aristide. Almost all of them were thoroughly ignorant of both the history of Haiti and the dynamics of the current crisis.
It was easy then, in support of the anti-Aristide sentiment already afoot in the special operations community, for this charlatan to get away with his prevarication. He was positively obsessed with voodoo, which he repeatedly characterized not as a religion (which it is, with components of West African polytheism and Catholicism), but as worship of demons. He stated that Haitians were childlike, and in need of outside direction, morally and spiritually lost, still practicing human sacrifice and cannibalism. The racist echoes were not lost on the largely white Special Forces audience.
Aristide was a particularly hot issue. Aristide was always in the company of voodoo priests and priestesses, he explained, explicitly stating that Aristide's Christianity was a sham…that Father Aristide, too, was a devil worshipper. Aristide, the minister explained to the audience, was not really a priest, at all. He had been defrocked. This was a sidelong reference to Aristide's expulsion from his religious order for political action on behalf of the poor. Aristide, also a closet communist, according to our preacher, had personally ordered riots and murders of countless people during his brutal eight month regime. Cedras and Francois showed up just in time to save the country, and any intervention to oust Cedras would be a terrible mistake, not to mention the dangers to young, Christian GIs, of working with HIV-riddled demon worshippers. When questioned about Aristide's landslide victory in the elections, he said that the election was a fraud perpetrated by Lavalas (the popular movement). He stated that the reports of violence by the Cedras regime were exaggerated. And if they did support Aristide, that demonstrated that they were not yet ready for democracy.
The briefing was only partly inexplicable to me. Many of the mindless prejudices of the briefing would resurface later as official documents, from Intelligence, Psychological Operations, and Civil Affairs. It was part of the attempt to minimize American contact with Haitian realities. It is going on to this day, and it is effective. Now, the bullshit is being disseminated by the United States Embassy. The press laps it up and regurgitates it for us uncritically, awed as always to be allowed so near the powerful. I want to emphatically state that the distortions and prejudices of this one man can not be generalized to any particular group. There are numerous religious groups of many faiths, Protestant included, who have consistently and vigorously supported the Haitians' rights to self-determination and freedom from violence.
Haitian landing
That said, I entered Port au Prince on the 19th of September, where we were summarily informed, in the wake of the Carter-Nunn-Powell agreement, struck, by the way, in the absence of a single legitimate representative of the democratically-elected government of Haiti, and signed by Emile Jonassaint, the Cedras-installed illegal president, that we would now become the friends, patrons and trainers of the Haitian armed forces, whom I shall refer to as the FAdH. Admittedly, this was during a period of policy confusion, when the Clinton administration couldn't decide what to do about FAdH soldiers openly clobbering unarmed citizens senseless with ironwood batons in front of CNN's cameras.
It's important to note, though long-term objectives in Haiti have become clear, many short-term decisions at that point in time appeared to be typical indecisive bumbling on the part of the Administration. It's important to remember that Clinton launched the operation under pressure from the Congressional Black Caucus and TransAfrica. These groups were illuminating the gross contradictions between policy toward Haiti and Cuba. By the same token, business interests, represented by Commerce Secretary Ron Brown, whose Madison Avenue public relations firm had a happy and lucrative history of dealings with key Duvalierist elites in Haiti, were strenuously opposing the reinstallation of Aristide.
By the time we escaped from the 10th Mountain Division's clutches in Port au Prince, a unit that had dauntlessly undertaken to prevent contact between ordinary Haitians and American troops, the guidance had changed. We were instructed to stop all "Haitian on Haitian violence." Worded this way, we were permitted to interfere with policemen cracking heads, gassing and shooting at anyone they disliked, so long as it was understood that we were protecting the police from civilian violence as well. It was by this bit of verbal legerdemain, that officials managed again to minimize the Haitian military police and paramilitary's overwhelming share of the mayhem, and to provide support to the prevailing disinformation alleging widespread violence perpetrated by pro-Aristide people.
In a telling analysis of this phenomenon, Catherine Orenstein, anthologized in a highly recommended book called The Haiti Files, edited by James Ridgeway, points out the complete collaboration of the US mainstream press in this gross misrepresentation of Haitian reality. Of the total space devoted to covering Haiti by the popular press, less than 4% was devoted to reporting human rights abuses by the Cedras regime, while it was in power, when between 3,000 and 5,000 people were murdered. Under the Aristide government, human rights violations were reduced by more than 65% in eight months, but no mention of this trend appeared in the New York Times or on CNN. The Times, in the three weeks following the coup devoted three times as much space to allegations of Lavalas violence, by all accounts less than 2% of the total, as it did to massive, ongoing military violence being directed at unarmed civilians. Again, I don't attribute this to an innate dishonesty on the part of the press, but to their unwavering tendency to truckle around after powerful people and reverently accept everything they say. Reporters who are not good sycophants do not last long in today's corporate megamedia environment.
Regulating the tropical heat
The question of disarming the paramilitaries was another subject that shifted repeatedly in the conduct of the mission. Before the soft option entry negotiated by the Carter team, military necessity made the question of weapons clear cut. If you carried a firearm, you were hostile. If a weapon were discovered, it was confiscated. But with the permissive entry, the Rules of Engagement stated that we were obliged to behave as police do, demanding that an armed individual relinquish his weapon and giving that individual an opportunity to do so, before employing deadly force. This ROE, as it is known, did not present a great problem. It was the question of seeking out and confiscating weapons that changed.
By the time my detachment arrived in Gonaïves, en route to Fort Liberte, planned searches for weapons caches were put on indefinite hold by Task Force commanders. No reason was ever given. Though we still had the authority to confiscate displayed weapons, we were prohibited from searching buildings and houses, even if we received multiple reports alleging their presence. That prohibition against searches for the purpose of confiscating firearms and other ordnance remains in effect to the end. The eventual justification was that Haitians had a constitutional right to own firearms…even though we were an extraconstitutional force. This would not be the first time that we were subjected to selective interpretations of the Haitian Constitution. And what it ignored was the practical fact, that nearly every weapon in the country was owned by a supporter of the de facto regime, this being the means by which they had retained their power.
By itself, this shift could be interpreted as an error in judgment, which it certainly would be, but other facts on the ground tend to support the thesis that it was part of an overall effort to achieve a specific circumstance. When we left the intrepid 10th Mountain Division in Port au Prince, they had begun fanning out, not into the slums where human rights violations continued to be reported, but to protect the property of the rich in Petionville from anticipated angry mobs who never materialized. The task force set up its headquarters on the factory complex of the second richest family in Haiti.
In Gonaïves, where a series of incidents had strained our relationship with the FAdH, and endeared us to the local population (an eventuality not anticipated by the Task Force commanders), we were obligated to work with a Haitian commander named Captain Castra, originally on our "detain immediately" list as a dangerous and seedy character, a known drug trafficker, and the originator of a massacre of 27 civilians in the slum of Raboteau just three months earlier. He and hundreds of other charming members of the armed forces had been miraculously rehabilitated by the stroke of a pen.
These encumbrances were temporarily removed when four members of FRAPH, the Haitian paramilitary headed by CIA employee Emmanuel Constant, shot and wounded a Special Forces soldier on the 2nd of October in Les Cayes. Independent of the conventional commanders, special operations commanders sent us the order to squash FRAPH. In my own sector, we made three detentions the first day, two the second, and ten the third when we entered Fort Liberte, including Nyll Calixte, former Haitian ambassador to France, and chief financier to FRAPH in the Northeast Department. On the fourth day after the directive, we detained Rene Mozart, Northeast Department president of FRAPH, subordinate only to Emmanuel Constant.
Calixte was released within 24 hours on a presidential order from the United States, with apologies. Mozart was returned in three weeks, with the admonition that FRAPH was now to be recognized as a legitimate political party, kind of like the loyal opposition. All but one of the original detainees were released. We were told to stop all detentions unless we could provide a laundry list of information and evidence that would have daunted the average FBI agent, citing the need for due process. Our argument that due process implied the presence of a functional police force, a forensics capability, a viable court, and a normally operating government, was viewed as evidence of a smart-assed attitude.
With that, our participation in assisting Haitian justice ground to a halt, accompanied by directives to provide support to propaganda efforts pushing the theme of "reconciliation." I was accused of failing to cooperate on two occasions with Psychological Operations Teams who wished to broadcast feel-good messages in my sector. These were accurate accusations, but in my own defense, our team had established effective rapport with the local population, predicated on our ongoing credibility and our open association with Lavalas, and broadcasting messages that insulted the intelligence of the local population with the transparency of the missive, stood to undermine that credibility.
Miller Time for Democrats
To understand how fragmented certain aspects of the operations were, it is important to explain that individual Special Forces Teams had a great deal of autonomy, much to the chagrin of a host of micromanaging, anal compulsive, career-obsessed commanders. My team, with only eight people on the initial entry, was responsible for hundreds of square kilometers of territory. For this reason, to this day, attitudes of Haitians in various sectors of the country will be wildly divergent with regard to American military. Some teams moved into FAdH garrisons, emplaced concertina wire, and built what appeared to be a Vietnam style firebase. Our team lived in a house, accessible to all, with neighbors on three sides, who listened to music with us on the porch and dropped by for coffee. We shopped at the local market, and drank an occasional Presidente beer from the little street store down the road. It was not at all unusual to shoo chickens out of the house in the morning.
In fact, the presence of beer, though its consumption by Special Forces was widespread in Haiti, was presented to us as a violation of a General Order in December of that year, and I was asked to leave the country. During the investigation regarding the General Order violation, the subject of beer seemed to preoccupy the investigating officer far less than our cozy relationship with Lavalas, to which I credited the remarkable stability of our sector throughout the operation.
The other subject that came up repeatedly was my failure to support the concept of the Interim Police Security Force, or IPSF. The original concept, briefed to us, was that the new police would be organized from the general population, even allowing certain decent, nonabusive gentlemen (and there were a few) from the original force, to continue employment. This sat well with the locals and with us. We were told to vet current members of the garrisons to determine which police had potential, and which were absolutely unacceptable to the general population. We did this, and were succinctly blown off. Instead of dropping the identified thugs from the rolls, a shell game was implemented, where Haitian police were abruptly reassigned to other towns, far away. We knew it. The Haitians knew it. Officialdom never acknowledged it. If I were attracted to conspiracy theories, I might have thought that someone was trying to protect the Haitian military from future legal action by removing them from places where they perchance would be deposed against.
The ostensible military action to restore democracy was launched on the heels of a bargain made with an outgoing military dictator and a phony president. The US military wasted no time setting up their headquarters on the industrial property of the Mev family, first stringers with the ultrarich, ruling elite. The operation advanced at a glacial pace, with emphasis placed on establishing security around the property of the wealthy. Soldiers were admonished not to take aggressive action to round up known criminals, not to search for weapons, and to observe a kind of "due process" in the treatment of former henchmen. US soldiers were given guidelines for detention so stringent that by the 5th of October, 1994, virtually all detentions had ceased. De facto government persecutors so notorious they were on "detain immediately" lists before the Carter-Nunn-Powell deal was cut, were allowed to continue in their present capacities, sometimes with US cooperation. Weapons buyback programs were implemented which allowed unserviceable weapons to be exchanged for money, while the serviceable ones were carefully cached for future use. In my own sector, dozens of reports came to us of large quantities of weapons being packed across the Dominican border, where many de facto criminals were being given sanctuary. The former military were dressed up in new uniforms, after a cosmetic vetting of past activities, and put back on the street with an apprehensive public who continually told American military authorities that this was an unacceptable arrangement. UN/US military policy stressed a "balanced" approach to dealing with Haitians, defining balance as "walking a line" between Lavalas, who represented the overwhelming majority of Haitians, and FRAPH, a terrorist organization working for the elite.
While there is no doubt that without intervention, the Cedras regime would have continued indefinitely, the best thing that could happen in Haiti at this moment would be the discontinuation of American, IMF, and World Bank influence. But, as always with both Democratic and Republican administrations, corporate wishes will prevail in the long term. The greatest miscalculation that the Haitian people can count on now, is the foolish but persistent belief that being illiterate means one is stupid.
Every Haitian has heard the old proverb… 'You can send a snake to school but it's hard to make him sit down."
EARTHQUAKE PENTECOSTAL
http://www.utexas.edu/utpress/books/garpro.html
http://www.religiondispatches.org/blog/international/2190/"biblical"_disaster:_understanding_religion_in_haiti/
"Biblical" Disaster: Understanding Religion in Haiti
BY Michelle Gonzalez Maldonado / January 13, 2010
Note to Pat Robertson: Haiti is not a nation of Vodou practitioners. It is, and continues to be, overwhelmingly Christian. Yesterday morning as I settled onto my elliptical at the gym, I anxiously turned to the television silently playing captioned CNN. It was before sunrise, and I knew it would be a good thirty minutes before daylight would reveal the devastation the 7.0 earthquake had unleashed on Haiti. The man on the neighboring machine, also watching the television, turned to me and said, "You know they killed all the white people after they gained independence … it is that Vodou … they deserve it." I pedaled along speechless, not sure what shocked me more, that this man would think these things or that he felt comfortable enough with his hatred that he was fairly confident I would agree. I ignored him and I wish I had not. What I wanted to say is that Vodou is not some sort of sorcery, or the product of some "pact to the devil" (thank you Pat Robertson). I also wanted to correct his erroneous assumption that Haiti is a nation of Vodou practitioners. It is, and continues to be, overwhelmingly Christian.
I confess that I have been fairly glued to CNN in the past twenty-four hours, and two things have struck me as I watched the constant onslaught of images of suffering and destruction. The first is the erroneous fact that CNN keeps claiming on its ticker that Haiti is 80% Roman Catholic. The second is the sheer amount of U.S. missionaries on the island. The two are inter-related. Recent studies estimate that the Protestant population of Haiti is somewhere around thirty percent. In Port-au-Prince that number jumps to almost forty percent. The majority of these churches are Pentecostal. These churches are overwhelmingly independent, indigenous Haitian entities, though some are linked to North American denominational Pentecostal churches. Haiti, along with Jamaica and Puerto Rico, is home to one of the fastest growing Pentecostal populations in the Caribbean.
As I watch the drama unfold in Haiti, and feel it here in Miami, the home of the largest Haitian Diaspora in the United States, I cannot help but think of another earthquake, another country. In 1976 a 7.5 earthquake devastated Guatemala, leaving 23,000 dead and over 50,000 injured. My husband, a child at the time, has told me of the silence, the fear that followed this catastrophe. As a scholar of religion, I have often wondered of the theological impact of this natural disaster.
Thankfully, the scholarship of Virginia Garrard-Burnett provides some answers. She correlates the explosion of Pentecostalism in Guatemala, who like Haiti, is an epicenter of Pentecostalism in the Americas, in part as a response to the earthquake. An overwhelmingly high percentage of Guatemalans saw the earthquake as a form of divine punishment and a call for repentance. Arriving in the guise of aid and relief, Protestantism provided an alternative way of being Christian. Yet Pentecostalism primarily emerged in Guatemala, as it did in Haiti, disconnected from North American denominations. Indigenous Pentecostalism, with its apocalyptic theology, also gained momentum among Indigenous Guatemalans.
Haiti had barely recovered from the four devastating storms of 2008 prior to this earthquake. The Roman Catholic Cathedral in Port-au-Prince has collapsed, and Archbishop of Port-au-Prince, Monsignor Joseph Serge Miot's lifeless body was pulled from the ruins of the diocesan offices. U.S. Secretary of State Hillary Clinton has described the natural disasters that this nation has endured as "biblical" in nature. "It is biblical, the tragedy that continues to stalk Haiti and the Haitian people." Clinton does not realize that her comments would strike a chord with many Haitians today. Haitian Pentecostals, with their biblical literalism and their certainty that the second coming of Jesus is imminent, could see this time of tribulation as a challenge where the faithful will be rewarded on judgment day. Religion will surely play a role in the manner in which Haitians make sense of this tragedy, and I suspect we will find growing numbers of Pentecostal converts as Haitians attempt to find meaning in what can only be described as senseless and inexplicable suffering.